Intel CEO Responds to Rumors of ARM-Based Macs, Says Relationship With Apple Is 'Strong'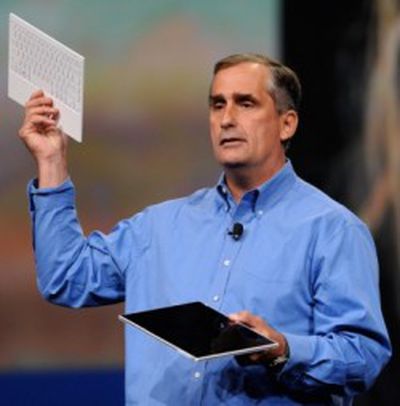 Intel CEO Brian Krzanich appeared today on CNBC's Squawk Box to talk about the financial future of the technology company. Following discussions about Intel's disappointing Q1 forecast and flat PC sales, CNBC anchor Betsy Quick questioned the executive about rumors that Apple may eventually drop Intel chips from its Mac computers in favor of its own processors.
Unfazed by the questioning, Krzanich toed the company line, revealing no new information about the future of Intel's relationship with Apple and simply calling it a "strong" one.
I just hear the same rumors. Our relationship with Apple is strong and their products are great. Apple is always going to choose the supplier who can provide them the most amount of capability in innovation for them to build on, for them to innovate. They're a company based on innovation. Our job is to continue to deliver parts that have that capability give them that, that are better than our competitors. And then they want to use our parts. So I wake up every morning making sure that across the board, whether it's Apple or Lenovo or Dell or any of our customers -- we have to provide the most competitive part: performance, price, reliability, all of those.
In his latest report, KGI Securities analyst Ming-Chi Kuo offered
the prediction
that Apple may launch ARM-based Macs in the next few years. In this scenario, Apple would replace the Intel chips it currently uses with custom designed A-series chip, allowing the company to better time processor upgrades with new product launches. Apple last year was forced to delay major product launches across its MacBook Air and MacBook Pro lineup, offering only
minor processor bumps
due to
delays
in Intel's Broadwell processors.
Rumors of Apple's interest in ARM-based Macs are not new, with earlier reports suggesting Apple has developed ARM-Based prototypes of the iMac, Mac Mini, and a 13-inch notebook model. If the rumor pans out this time, the switchover to ARM processor would initially target low-end machines that would benefit from the low battery consumption of the ARM-based architecture. Future expansion may be possible as improvements in Apple's A-series processor begin to rival the performance of Intel's entry-level offerings.