Apple Diversifies Chip Orders for iOS Device and Apple Watch Amid Predictions of ARM Macs
KGI Securities analyst Ming-Chi Kuo, who has frequently offered accurate information on Apple's product plans based on supply chain information, has released a new report outlining his expectations for the company's chips over the next several years. Kuo highlights a diversified supplier lineup for Apple's A-series chips used in its iOS devices, with TSMC, Samsung, and GlobalFoundries all contributing to production.
Kuo sees the 2015 chip breakdown with the A9 chip destined for this year's iPhones being shared by Samsung and GlobalFoundries, while TSMC handles the A9X that would be used in iPad models. That split is projected to flip in 2016, with TSMC handling the A10 iPhone chips and Samsung being responsible for A10X iPad chips.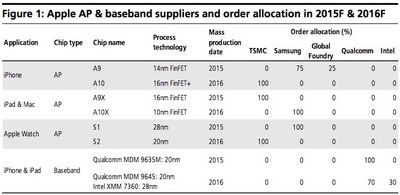 Perhaps most enticingly, Kuo projects that Apple could begin launching ARM-based Macs in the next year or two based on its custom chip designs.
Apple may launch Mac products that use own AP in next 1-2 years. This prediction is based on the assumption that Apple's self-developed AP performs at a level between Intel's Atom and Core i3 and is good enough for Mac. Using self- developed AP can help Apple better control the timing of Mac launches and Mac product features.
Use of A-series chips in Macs would certainly be limited to lower-end devices at first, but Apple's emphasis on controlling its supply chain and the improving performance of Apple's A-series ARM chips compared to low-end Intel chips could lead to a shift in the coming years.
Kuo also looks at the Apple Watch, where Samsung has been reported to be handling the primary portion of Apple's custom "S1" chip for the upcoming smartwatch. He believes, however, that TSMC will take over responsibility in 2016 for the S2 in the second-generation Apple Watch.
Kuo certainly does not have a perfect track record with his claims over the years, but he is reliable enough that his predictions are followed closely. Given muddled rumors of Apple's chip partnerships for future devices, it will be interesting to watch how these supplier deals play out over time.