Apple Releases iOS 8.1.2 With Fix for Disappearing Ringtone Issue
Apple today released iOS 8.1.2 to the public, introducing bug fixes and addressing an issue that caused ringtones purchased through the iTunes Store to be removed from an iOS device. Apple advises users who have lost ringtones to restore them by visiting itunes.com/restore-tones from their iOS devices.
iOS 8.1.2, carrying a build number of 12B440, was not seeded to developers before being released to the public. The software is available immediately as an over-the-air-download.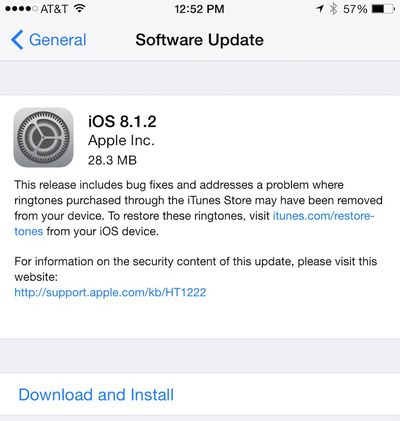 Like iOS 8.1.1, released on November 17, iOS 8.1.2 is a minor update that focuses solely on bug fixes. It does not bundle in any of the major new features that are rumored for iOS 8, like improvements to Maps and split-screen multitasking for the iPad. Apple is also working on iOS 8.2 with the WatchKit SDK, which was seeded to developers in mid-November.