Apple Seeds iOS 8.2 With WatchKit SDK for Apple Watch Apps to Developers
Apple today announced that its set of WatchKit development tools are now available for developers, allowing them to begin creating apps and software for the company's upcoming Apple Watch.
"Apple Watch is our most personal device ever, and WatchKit provides the incredible iOS developer community with the tools they need to create exciting new experiences right on your wrist," said Philip Schiller, Apple's senior vice president of Worldwide Marketing. "With the iOS 8.2 beta SDK, developers can now start using WatchKit to create breakthrough new apps, Glances and actionable notifications designed for the innovative Apple Watch interface and work with new technologies such as Force Touch, Digital Crown and Taptic Engine."
WatchKit is being released as part of the iOS 8.2 and Xcode 6.2 beta, both of which have been made available to developers today.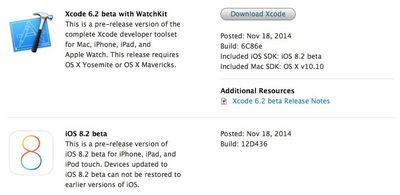 Both the iOS 8.2 Beta with WatchKit and the Xcode 6.2 beta can be downloaded from Apple's developer site, which also has Apple Watch development resources for developers. WatchKit can currently be used to create Glances, actionable notifications, and Apple Watch apps that are powered by the iPhone. Many Apple Watch apps will be driven by code that runs on the iPhone, with a UI that displays content on the watch itself. According to Apple, "fully native" Apple Watch apps can be created "later next year."
As described by Apple, actionable notifications are notifications that allow users to take an action or respond directly from their wrists with the Apple Watch, turning off the lights when they've left the house, for example, or accessing flight information at an airport. Glances are somewhat simpler, aiming to give users quick information at a glance like news, weather, sports scores, and more.


In its press release, Apple highlights several developers who have already begun working with WatchKit, giving some additional insight into how the WatchKit tools can be used. The ESPN app for Apple Watch delivers live scores and information on teams, according to ESPN VP John Kosner, and it offers snapshots of live games through Glances and alerts on score changes through actionable notifications.
Instagram has used WatchKit to develop actionable notifications that let users instantly like a photo or respond with an emoji, plus there's an Instagram news and watch list to let users see their friends favorite photos and get an overview of likes and comments. American Airlines has used Apple Watch to create pre-trip notifications, updates for gate changes, gate connection information, and alerts when a flight begins boarding, all of which can be accessed directly from the wrist.
In addition to sharing these use cases for the Apple Watch, Apple has also created a dedicated Apple Watch site for developers, outlining the difference between full apps, Glances, and actionable notifications, offering download links to the iOS 8.2 beta with WatchKit SDK, and providing design guidelines and templates.


Apple has said that its Apple Watch will be released in "early 2015," but an exact launch date remains unclear. At the lower end, the device will retail for $349, with estimates placing pricing for the higher-end solid gold version at thousands of dollars.