Apple's iPad sales are down for the third straight quarter according to the company's earnings for its fourth fiscal quarter of 2014, selling a total of 12.3 iPads which is down from 14.1 million units in the year-ago quarter. The company has sold 68 million iPads in 2014 and has sold 237.5 million iPads total. The news comes after the company announced its new iPad Air 2 and iPad mini 3 last week at its special media event.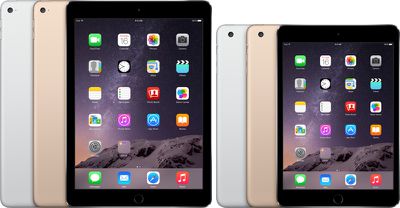 Earlier this year, Apple CEO Tim Cook commented that the drop in iPad sales over the past two quarters was just a "speed bump" for Apple. In the company's third-quarter earnings call, Cook highlighted overall sales of more than 225 million iPads since the device launched in 2010 and suggested the tablet market as a whole was still "in its infancy." The CEO also stated at the time that "significant innovation could be brought to the iPad" ahead of this year's new iPad releases.
The new iPad Air 2 and iPad mini 3 will go on sale this week, although the company focused primarily on the former at its event. The iPad Air features a faster A8X processor, a Touch ID fingerprint sensor, a profile that is just 6.1 mm thick, and a new gapless laminated display that produces sharper images. Meanwhile, the iPad Mini 3 includes a few changes aside from the Touch ID home button and a new gold color option.
Apple is also said to be preparing to launch a new 12.9-inch iPad Pro early next year, although some reports have claimed that mass production of the larger tablet has been put on hold to shift resources towards iPhone 6 plus production. The display of the larger tablet will reportedly near ultra high-definition quality and will likely ship with the faster A8X processor.