Apple CEO Tim Cook: Drop in iPad Sales Just a 'Speed Bump'
Just before news of Apple's upcoming 12.9-inch iPad Pro was reported by Bloomberg, Re/Code's Walt Mossberg shared a snippet of an interview with Apple CEO Tim Cook commenting on the recent state of the tablet market, which has been on the decline. According to Cook, the dip in iPad sales over the past two quarters is just a "speed bump" for Apple.
In a brief interview about tablets I had this week with Apple CEO Tim Cook, he said, "We couldn't be happier with how we've done with the first four years of the iPad," and added that, "I'd call what's going on recently a speed bump, and I've seen that in every category."
The sentiment echoes comments that Cook made during the company's third quarter earnings call, where Apple announced iPad sales of just 13.3 million, down from 14.6 million in the year-ago quarter. The drop followed a Q2 sales dip that saw sales of 16.35 million iPads, down from 19.5 in Q2 2013.
During the call, Cook highlighted overall sales of more than 225 million iPads over the course of the last four years and suggested the tablet market itself was still "in its infancy." The CEO said that "significant innovation can be brought to the iPad," and pointed towards plans to bring improvements to Apple's tablet lineup.
Part of those plans may include the introduction of a larger 12.9-inch iPad Pro, which will launch in early 2015, according to Bloomberg. Rumors have suggested the larger tablet will include an ultra high-definition display and that it will be marketed towards Apple's enterprise customers.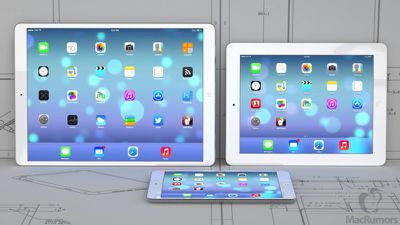 While Apple has seen a serious drop in iPad sales over the past two quarters, the company continues to be the world's leading tablet vendor,
holding 26.9 percent
of the total tablet market. The company's iPad Air and iPad mini have hit 98% and 100% customer satisfaction rankings, respectively, and the iPad holds an 85 percent share of the U.S education market.
Apple is not the only company experiencing a drop in tablet sales, as noted by Mossberg. Microsoft and Samsung have also seen slumping sales, possibly due to the fact that people see less of a need to upgrade their tablets on a regular basis, as suggested by Samsung, or the tablet's position as a want rather than a need.
In addition to kickstarting iPad sales with the introduction of a larger iPad, Apple may see a jump in iPad sales during the last few months of the year, as the company is said to be introducing both a new iPad Air and a new Retina iPad mini with improved processors and a Touch ID fingerprint sensor. Touch ID proved to be a major draw for the iPhone, and its inclusion in the iPad may entice both new buyers and upgraders.