Apple to Launch 12.9-Inch iPad in Early 2015
Apple is planning to launch its much-rumored 12.9-inch iPad in early 2015, reports Bloomberg. Hints of the tablet, which has been dubbed the "iPad Pro" in rumors, first appeared in mid-2013, with a prospective 2014 launch date. Recent rumors, however, suggested plans for the tablet had been put on hold.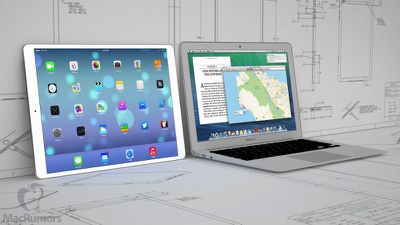 Mockup of a 12.9-inch iPad next to a 13-inch MacBook Air
The new iPad will have a screen measuring 12.9 inches diagonally, said the people, who asked not to be identified because the details aren't public. Apple currently produces iPads with 9.7-inch and 7.9-inch displays. The Cupertino, California-based company has been working with suppliers for at least a year to develop a new range of larger touch-screen devices, said the people.
According to rumors, the larger 12.9-inch iPad will include a high pixel density with a display that nears ultra high-definition quality. It will likely adopt many of the design elements offered in the current iPad Air and iPad mini, like an ultrathin chassis and narrow side bezels.
Bloomberg suggests that the larger tablet is an effort to "shake up the iPad line" as sales of the iPad have been on the decline for the past two quarters. The larger tablets may appeal heavily to businesses, a market that Apple is also aiming for with its recent IBM partnership.
Along with a larger "iPad Pro" Apple is also working on a second-generation iPad Air and Retina iPad mini, both of which are expected to include upgraded processors and support for the Touch ID fingerprint sensor.