iPad Sales Total 225 Million Units Since 2010 as Apple Claims 'Significant Innovation' Coming
During today's earnings call, Apple CEO Tim Cook shared new information on the state of the iPad, including details on overall sales since the product launched a little over four years ago, recent growth in different markets, and hints at future plans. It was revealed earlier that sales of the iPad were down for the second straight quarter in a row, as the company sold a total of 13.3 million iPads, down from 14.6 million in the year-ago quarter.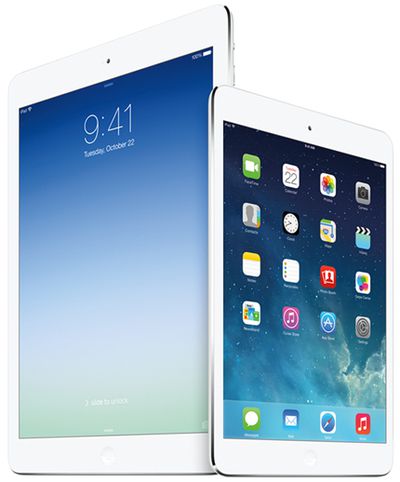 Cook said that iPad sales have totaled to 225 million units since 2010, as the current iPad Air and iPad mini have hit 98% and 100% customer satisfaction, respectively. According to recent market studies, 63% of customers planning to buy a tablet are planning to buy an iPad, while half of all iPad buyers were planning to buy their first iPad.
Additionally, Apple noted that 2.5 iPads are being sold for every Mac, as the tablet now holds an 85% share of the U.S. education market. Internationally, the iPad also experienced a 50% growth in China and 60% growth in the Middle East year-over-year.
In reaction to iPad sales being down, Cook noted "significant innovation can be brought to the iPad", stating "[Apple] plans on doing that" and that the tablet category as a whole is still "in its infancy." Recent reports have pointed to Apple launching updated models of the iPad Air and Retina iPad mini later this year, with each likely to come with the Touch ID fingerprint sensor and a faster A8 processor.
The company is also rumored to be preparing a larger "iPad Pro" which is said to feature a 12.9-inch ultra high-definition display. KGI Securities analyst Ming-Chi Kuo reported that the iPad Pro in 2015, but a recent report noted that Apple's plans may be on hold for the foreseeable feature.