Apple Reportedly Preparing to Remove Bose Audio Products From Retail Stores
Apple is preparing to remove all Bose audio products, both demo and sellable, from its retail environment, according to a reliable source who spoke to MacRumors. The inventory change will begin early next week, with instructions for removal being sent to employees in the coming days.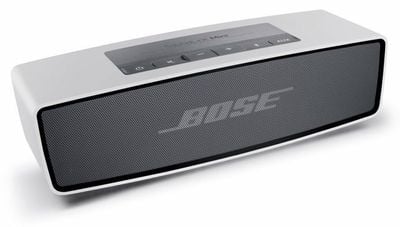 The reasons behind this removal were not disclosed, but it is very likely tied to to Apple's recent acquisition of Beats Electronics. As part of this deal, Apple obtained the popular Beats headphone division as well as the company's subscription music streaming service. With Beats now featured prominently by Apple, either Bose or Apple may have decided to end their retail relationship.
Bose also has a new sponsorship deal with the National Football League that has seen the league prohibit players from wearing Beats headphones while in the presence of television cameras at practice and on game days. San Francisco 49ers quarterback Colin Kaepernick defied the ban by wearing bright pink Beats headphones at a postgame press conference last Sunday, a move that saw the league hit Kaepernick with a $10,000 fine.
Bose and Beats are also currently embroiled in a patent dispute that has seen Bose file suit against Beats, claiming infringement of five patents related to noise cancelation technology.
Apple acquired Beats Electronics earlier this year in a deal worth $3 billion. Beats co-founders Jimmy Iovine and Dr. Dre reportedly have assumed senior roles within the company and are said to be working to improve Apple's influence in the music industry. This partnership may help Apple as it supposedly negotiates with music labels in order to lower the price of its Beats Music service ahead of a planned revamp rumored for February of next year.
Update 11:07 AM: Just today, Bose has agreed to a dismissal of its lawsuit against Beats, with the parties having settled their claims.