Bose Sues Beats for Patent Infringement Over Noise-Cancelling Headphones
Bose today filed a lawsuit against Beats Electronics, accusing Beats of infringing on a number of patents related to noise cancellation and other audio technologies (via TechCrunch). The lawsuit accuses Beats Studio and Studio Wireless branded headphones, which advertise "Adaptive Noise Cancellation," of violating five separate Bose patents in the United States.
In the filing, Bose points towards the 50 years of research, engineering, and development of noise cancellation techniques that went into the creation of its QuietComfort line of noise-cancelling headphones, which use the technology Beats has allegedly stolen.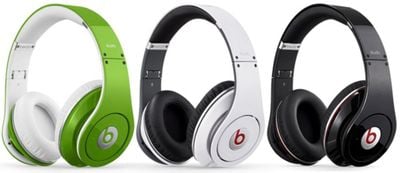 Beats has been accused of infringing on the following five U.S. patents, which pertain to various noice-cancelling techniques:
No. 6,717,537 - "Method and apparatus for minimizing latency in digital signal processing systems"
No. 8,073,150 - "Dynamically configurable ANR signal processing topology"
No. 8,073,151 - "Dynamically configurable ANR filter block topology"
No. 8,054,992 - "High frequency compensating"
No. 8,345,888 - "Digital high frequency phase compensation"
The lawsuit asks for an injunction that prevents Beats from continuing to produce products that infringe on Bose patents and it requests a damages award for using the company's technology. Bose has also filed a complaint with the International Trade Commission, seeking a sales ban on the Beats products that violate its patents.
Bose's infringement lawsuit against Beats is set to become Apple's problem as the company's purchase of Beats is expected to close this quarter. Apple initially announced its $3 billion acquisition of the headphone manufacturer in May. Apple is currently embroiled in a number of lawsuits, including an ongoing dispute with Samsung Electronics and several class action suits brought against it by former employees.