All iCloud Services Down for Some Users [Update: Fixed]
Apple's iCloud appears to be down for some users, with many people reporting issues logging into iCloud.com and accessing iCloud content like Mail, Calendar, and Notes.
According to Apple's System Status Page, all iCloud services and features are entirely inaccessible for some users, with the outage starting just after 3 PM Pacific Time. The downtime comes just after Apple released an iOS 8.1 update to developers and following news of a significant iCloud Drive bug that causes documents to be deleted when "Reset All Settings" is used on an iOS 8 devices.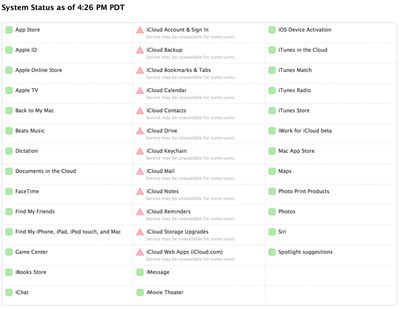 Apple has not provided a timeline for when access to iCloud services might be restored, but the issue appears to be affecting just a portion of iCloud users, as others are reporting no problems at all.
Update 5:33 PM: All iCloud services appear to be functionally normally again as indicated by Apple's System Status Page.