Apple Rolling Out New iBeacon Transmitters, NFC Readers to Apple Stores and Disney Stores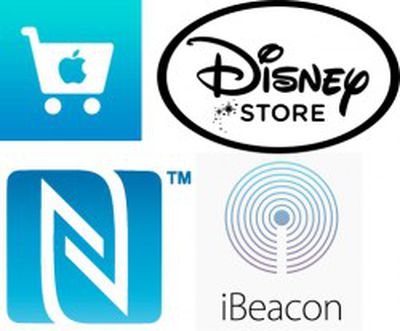 Apple is rolling out near field communication (NFC) readers and updated versions of its iBeacon transmitters to its own stores and Disney Stores ahead of the launch of its mobile payments service and the iPhone 6, reports 9to5Mac.
The company will begin integrating new proximity beacons made by Gimbal that will provide more accurate iBeacon location tracking in its own stores, and roll out new payment systems to support the NFC capabilities on the iPhone 6 and its highly-anticipated wearable device.
The report also notes that Apple may be planning to roll out its own first-party iBeacon sensors in its retail locations, and could also provide or sell the transmitters to other retailers as an incentive to sign up for its new mobile payments service. An FCC filing earlier this year revealed that Apple was developing its own first-party iBeacon hardware, which may end up being the new hardware discussed in this latest report.
Disney's retail stores are also said to be receiving new credit card machines that support NFC, which will also likely integrate with Apple's new mobile payment service. Reports from this past week have also indicated that Apple will be partnering with a number of other retailers for the service, including Walgreens, CVS, Nordstrom and more.
Apple has also established deals with major credit companies such as Visa, MasterCard, American Express, and credit card issuers to support its mobile payments service.
Apple will likely unveil its mobile payments service on Tuesday, along with the new iPhone 6 and its highly-rumored wearable device. Apple's media event kicks off at 10:00 AM Pacific Time, and MacRumors will have full coverage as the event unfolds.