Walgreens, CVS Expected to Partner With Apple for Mobile Payments Service
Popular drugstores Walgreens and CVS are expected to partner with Apple on its upcoming mobile payments initiative, accepting purchases made with the company's new iPhone payment system, reports Re/code.
CVS and Walgreens are expected to accept purchases made with the new iPhone payment system, details of which Apple plans to announce Tuesday, according to a person briefed on the plans. With more than 15,000 locations combined, acceptance by the two chains will give Apple a huge footprint if all of their stores are involved.
Earlier this week, Apple was rumored to be partnering with retailer Nordstrom, leading to fears that its upcoming payments service would be limited to higher-end retailers, but it appears that Apple will also be aiming to sign deals with stores people visit regularly. As noted by Re/code, getting stores that people frequent on board could lead to quick acceptance of the new mobile payment service.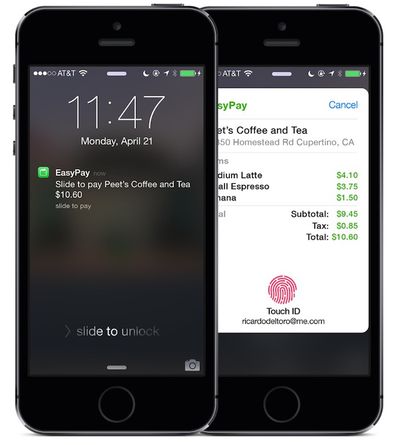 EasyPay mobile payments

concept

by Ricardo Del Toro


Re/code's report also divulges some information on how the system might work, allowing shoppers to "wave or tap" their iPhones at checkout terminals. The service is said to work over NFC, transmitting payment information from the phone when the device is near the store's checkout area. NFC may, however, be supplemented by other wireless technologies, and Touch ID is expected to be integrated into the system for added security.
Sources caution that Apple's payment system may in some cases employ additional wireless technologies either in conjunction with, or in place of, NFC. The new payment method will also likely include the use of fingerprint identification already available on the latest iPhones as an added security measure.
In addition to inking deals with various retailers to support the system, Apple has also established deals with major credit card companies Visa, MasterCard, and American Express, as well as credit card issuers.
Apple is expected to unveil its mobile payments service on Tuesday, along with the iPhone 6 and its much-anticipated wearable device. Both the iWatch and the iPhone 6 are said to play an important role in the new mobile payment service, as the two devices are rumored to include support for NFC.