Motorola Launches $249 Moto 360 Smartwatch Featuring Android Wear, 'All Day' Battery Life
Motorola has officially launched its Moto 360 smartwatch, an Android Wear device featuring a circular 1.65-inch scratch-resistant Gorilla Glass display, a leather band, "all-day" battery life, and a built-in pedometer and optical heart rate monitor. Motorola has also included wireless charging capabilities with an included dock and also states that the device is "water resistant."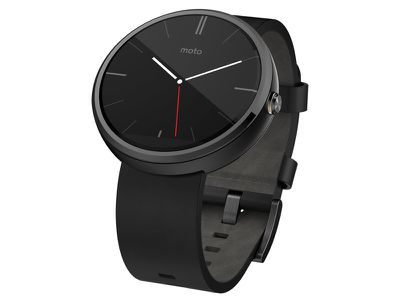 The Moto 360 can pair with any smartphone running Android 4.3 or higher, as users can then receive notifications about weather, flight alerts, traffic, and more through Android Wear. The device also includes built-in Google Now functionality, as users can say "Ok Google" to send texts, set reminders, see directions, and more. Existing Android apps such as Facebook Messenger and Lyft also work with Moto 360.
The launch of the Moto 360 comes less than a week before Apple's special September media event, which is rumored to feature the unveiling of its iWatch wearable device alongside the iPhone 6. According to recent reports, Apple's iWatch will pair with the iPhone and feature a flexible curved display, wireless charging, and number of advanced biometric sensors to track a range of health and fitness data.
The device is also said to come in multiple sizes and material options when it launches, and incorporate near field communications (NFC) technology for mobile payments. Apple is said to be weighing a $400 price range for the device, and may start shipping it in early 2015.
The Moto 360 will be available later today for $250 from
Motorola's website
, Google's Play Store and Best Buy. Motorola will also be releasing metal bands for its wearable device later this fall.