Apple's iWatch Pegged for 2015 Debut in Two Sizes With 8 GB Storage, Multiple Material Options
KGI Securities analyst Ming-Chi Kuo released a research note today with updated information on Apple's rumored iWatch wearable device. Echoing earlier reports, Kuo believes Apple will unveil the iWatch at its upcoming September event, with sales starting in 2015. This early announcement would create a buzz about the product and provide developers with adequate time to prepare apps for this new device.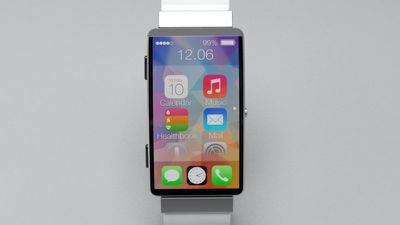 2.5-inch iWatch concept from SET Solution with curved, rectangular display
According to Kuo, the iWatch may have a rectangular design and will include 8GB of internal storage with 512MB LPDDR3. The wristwatch will be available in two screen sizes of 1.3 and 1.5-inches in order to accommodate different wrist sizes. Apple may use between two to four different casing materials, with aluminum and gold as two likely options.
The fact that wearable devices don't need much memory explains our prediction of an 8GB version with 512MB built-in memory. We expect casing material to be of 2-4 different types, with aluminum the most likely as it has been widely used in Apple products. A gold casing option is also possible, to add a luxury image to the product. We believe iWatch will be rectangular in front/ panel side shape. And lastly, like some other wearable devices, we expect there to be a number of holes on the back side of the device that can be used to monitor users' vital health signs such as heart rate.

Rumors have suggested the iWatch will include several sensors to monitor vital health statistics such as heart rate, sleep activity and more. The band likely will sync with the iPhone and integrate with iOS 8's Health app, which will produce a comprehensive health profile using health and fitness data compiled from a variety of third-party sources.