More Claims of September 9 Debut for Apple's Wearable Device, Likely Positioned as iPhone Accessory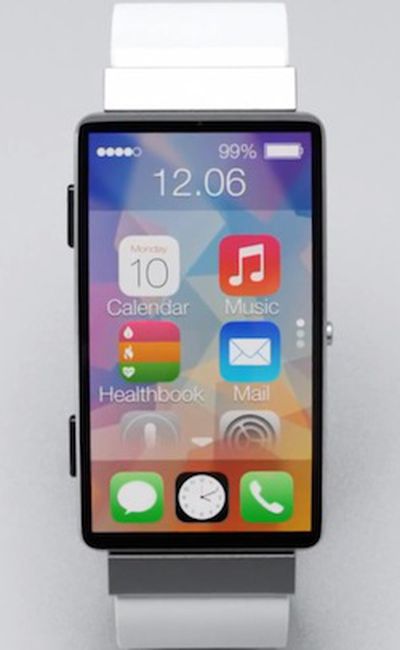 Yesterday, Re/code broke the news that Apple planned to introduce its upcoming wearable device alongside the iPhone 6, and now Bloomberg is seconding that rumor, pointing towards a simultaneous debut of two different iPhones and a wearable device at Apple's September 9 event.
According to Re/code, Apple had originally planned to introduce its wearable device at an October event separate from its September iPhone event, but later ended up changing its plans. Bloomberg speculates that Apple's plan to debut the wearable device alongside the iPhone may be the company's way of limiting expectations for the device, positioning it more as an iPhone accessory rather than a standalone device.
Apple will give the new wearable a boost by pairing its debut with its flagship product, the iPhone. The company also may be trying to manage expectations for the new device, signaling that it's more of an accessory instead of a category that stands by itself. By contrast, when the iPad was introduced in 2010, Apple held a special event just for that product.
Apple does appear to be planning a major affair for the debut of the wearable device and the two iPhones, however, holding the event at the Flint Center at De Anza College where it introduced the original Macintosh thirty years ago and the first iMac in 1998. The company is building a massive structure on the site, the purpose of which remains unclear.
Both Apple CEO Tim Cook and iTunes chief Eddy Cue have also heavily hyped Apple's upcoming product lineup, with Cue saying it's the "best product pipeline" in 25 years and Cook promising "really great stuff" in new product categories.
It is likely Apple is planning to unveil its wearable device, which has commonly been called the iWatch in rumors, several months before it becomes available to consumers. A distinct lack of product leaks and tangible rumors have suggested the device is not yet in production, and an introduction before a deluge of part leaks allows Apple to debut the device while it's still largely a surprise.
Though we've not seen images of Apple's wearable device, rumors have suggested it will have a heavy focus on health and fitness with an array of health-related sensors that measure metrics like steps taken, sleep quality, heart rate, and more. It's said to come in multiple sizes and at multiple price points, and it is also said to be heavily integrated with the iPhone and iOS 8 features like the Health app.
(Image: 2.5-inch iWatch concept by SET Solutions)