Round 'True Tone' Flash for iPhone 6 Revealed in Latest Part Leak
Over the last several months, a number of drawings, mockups, and even rear shell parts for the iPhone 6 have consistently shown a round hole for the LED flash next to the rear camera. That feature has been one of the primary sources of skepticism about the legitimacy of these leaks, as many observers have argued it suggests Apple would have to be abandoning the pill-shaped "True Tone" dual-LED flash introduced in the iPhone 5s.
Earlier today, we highlighted a new photo set from Nowhereelse.fr [Google Translate] showing a number of components said to be from the iPhone 6, but one part we neglected to feature shows Apple has indeed developed a new round version of the True Tone flash. The part shows both white and amber LEDs within a single round flash component.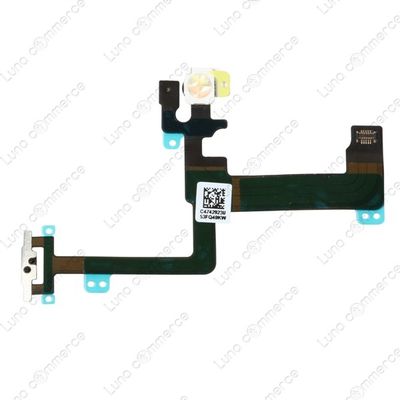 This round flash module is integrated into a purported iPhone 6 flex cable that contains several arms with a power button, a logic board connector, a microphone, and the round True Tone flash. The cable had been seen in a previous leak late last month, but only from the rear where the flash itself was not visible.

Apple
added
the dual-LED True Tone flash to the iPhone 5s, replacing the white-only flash module in previous iPhone models. The True Tone flash includes both white and amber LEDs in order to improve white balance and add support for more than 1,000 different color temperatures.
Besides a round flash module, Apple may also improve the photo-taking abilities of the iPhone 6 with an enhanced camera module featuring either optical or electronic image stabilization. The high-quality rear camera may come with an aesthetic cost in some users' eyes, however, as at least the 5.5-inch model has been rumored to require a slight protrusion from the thin body to accommodate the camera, as seen on the current iPod touch.
The iPhone 6 is expected to launch in two different sizes including a 4.7-inch or 5.5-inch display, along with a more durable Touch ID. Apple is expected to unveil its next-generation handset at a September 9 press event with the retail launch to follow shortly after the announcement.