New iPhone 6 Images Depict Rear Shell and Front Panel Together for the First Time
With the iPhone 6 launch less than a month away, we've been seeing new images of leaked parts on a near daily basis. Multiple images of both the front panel and the rear shell of the 4.7-inch device have surfaced, but for the first time, the two parts have been photographed together, giving us our clearest look yet at Apple's upcoming iPhone 6.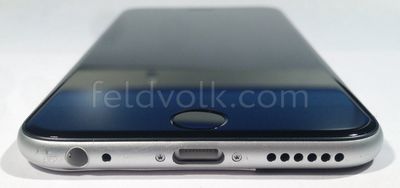 Shared by luxury iPhone vendor Feld & Volk [Instagram page] high quality images of the two parts show the glossy front panel's slightly tapered edges melding seamlessly into the rounded edges of the rear shell for a sleek, continuous curve.

Top view of 4.7-inch iPhone 6
A side view of the two pieces together also gives us a good idea of just how thin Apple's newest iPhone will be. Assembled, the iPhone 6 is expected to be significantly thinner than the 7.6mm thick iPhone 5s, coming in at approximately 7mm.

Side view of 4.7-inch iPhone 6
With its softly rounded corners and redesigned pill-shaped volume buttons, the iPhone 6 closely resembles the style of the iPad mini, iPad Air, and newest iPod touch. Shell images also suggest the iPhone 6 will adopt redesigned speaker holes, a round True Tone flash, an embedded Apple logo, and a relocated right-side power button for easier one-handed use.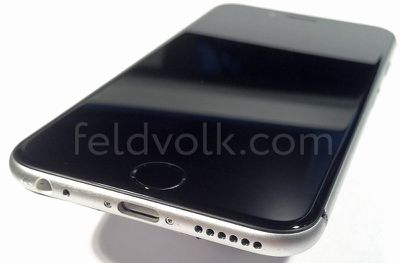 It's important to note that Feld and Volk's images still depict unfinished iPhone 6 parts that are in rough condition, and Apple's completed device will undoubtedly look even more polished.
Along with the assembled front panel and rear shell, we've seen virtually every other iPhone 6 part, giving us a fairly good idea of what to expect from the device. For a full walkthrough of each aspect of the iPhone 6, make sure to check out our roundup.