iPhone 6 Said to Feature Faster Qualcomm MDM9625 LTE Modem with LTE-Advanced Support
The iPhone 6 may incorporate Qualcomm's MDM9625 LTE modem, according to a new photo of the device's supposed logic board shared by GeekBar (Google Translate, via G for Games).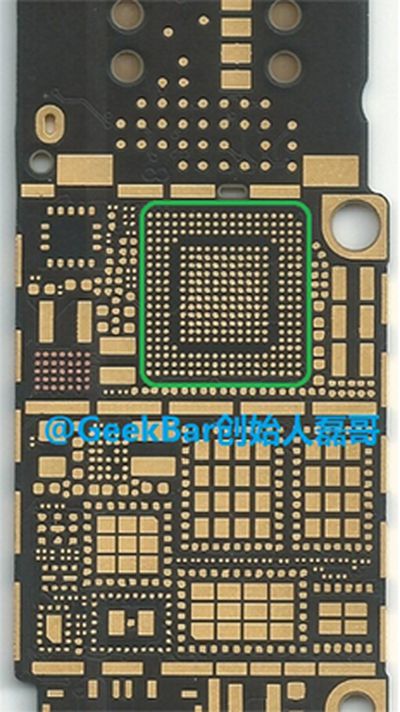 Originally announced in 2012 and featuring support for speeds of up to 150 MBPS and improved LTE networking, the Category 4 chip would mark an improvement over the Qualcomm MDM9615 chip found in the iPhone 5s and iPhone 5. The MDM9625 is also more durable than its predecessor, allowing for lower temperatures under heavy performance thanks to a refined 28-nanometer production process.
Along with those features, the MDM9625 includes support for next-generation LTE Advanced networks, which have yet to roll out in most parts of the world. News of the MDM9625's inclusion in the iPhone 6 also contrast a detailed yet sketchy report from VentureBeat posted earlier this month, which stated that the iPhone 6 would include a Category 6 LTE modem capable of 300 MBPS throughput speeds. That radio however was said to not include support for LTE-Advanced networks as featured in the MDM9625.
GeekBar also posted a supposed schematic from the iPhone 6 yesterday, which appeared to show support for near field communications (NFC) in the device. The schematic also references a NAND flash chip, which was originally interpreted by the website to be 1 GB of DRAM in the device.
Apple will announce the iPhone 6 at an event on Tuesday, September 9. The launch of the 4.7-inch version will probably follow soon after, as production issues may hold back the release of the 5.5-inch version until late this year or early next year. In addition to a larger display, the iPhone 6 will feature a thinner chassis, a faster A8 chip, an improved camera with stabilization, and more.