Rumored NFC Chip for iPhone 6 Highlighted in Claimed Schematic
Rumors of near field communications (NFC) support for the iPhone surface nearly every year, and this year's iPhone 6 rumors are no different, with reports split on whether the device will include the short-range communications technology frequently used for mobile payments. A couple of new reports do, however, come down on the side of NFC being included in the iPhone 6.
The first mention came in a separate leak showing a purported battery from Apple's 5.5-inch iPhone 6 late last week. That report from Taiwanese newspaper Apple Daily also mentioned in passing that the iPhone 6 will include a PN65V NFC chip from NXP, but offered no specific evidence in support of the claim.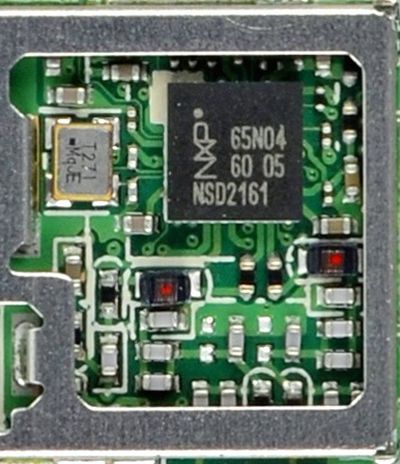 NXP PN65 NFC chip from Nexus 7 (Source: iFixit)
But now Chinese repair firm GeekBar has shared what is said to be a
wiring schematic
for just such a chip to be included on the iPhone 6. NXP has been the
rumored
partner
for NFC in the iPhone 6, and the company's PN65 NFC package is used in a number of Android mobile devices.

Claimed iPhone 6 schematic for NXP PN65V NFC chip
While GeekBar's interpretation of such schematics is questionable given a
leak earlier today
in which it claimed the iPhone 6 will contain only 1 GB of RAM as the schematic appears to be addressing NAND flash rather than DRAM, the appearance of a PN65V chip on the schematics seems straightforward if they are indeed legitimate.
Apple has been rumored for some time to be working on a mobile payments system, with a launch coming perhaps as soon as this year in partnership with Visa. Details on the system are unclear, but Apple has reportedly been taking a "go-slow" approach for a number of years as it has tried to figure out the best way to deploy such a system without simply competing with existing providers "all fighting over their piece of the pie."