More Photos of Embedded Rear Logo, Rear Camera Ring of iPhone 6 Surface
Nowhereelse.fr (Google Translate) shares more photos said to be of various iPhone 6 parts, including images of the embedded rear Apple logo, external camera ring, Touch ID home button enclosure, flex cables, and more. The pictures of the embedded rear Apple logo and external camera ring also line up with photos shared last week by luxury modified iPhone vendor Feld & Volk.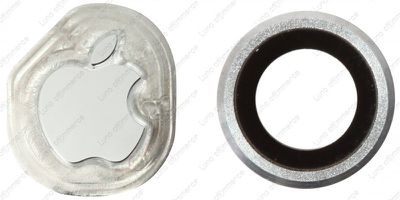 Apple has not used an embedded logo on the iPhone since shipping the original iPhone in 2007. It was stated last week that the embedded logo may be made of an incredibly scratch-resistant metal, perhaps even a Liquidmetal alloy. Earlier this year, Apple renewed its rights to use Liquidmetal Technologies' alloy in consumer products, although no other evidence suggests that this logo or any other components are using such a material.
The external camera ring also makes an appearance once again, and may indicate that at least one iPhone 6 model may have a protruding lens. To this point, leaked design drawings, mockups, and rumors have pointed to the 5.5-inch iPhone 6 having a protruding rear lens, while reports have pointed to a flush rear camera for the 4.7-inch iPhone 6. It is possible that a protruding lens on the iPhone 6 would appear similar to the one currently on the iPod touch.


Other components such as the headphone jack, Lightning port connector, and Touch ID home button enclosure among others appear to be similar to those found in the iPhone 5s. Apple is expected to announce the iPhone 6 on September 9, with a launch likely coming shortly afterward. The 4.7-inch iPhone 6 will also possibly be released before the 5.5-inch model, as Apple is said to be experiencing issues with the larger device's display technology and battery life.