4.7-Inch iPhone 6 Rear Shell with Embedded Apple Logo Shown in New Photos
Earlier this month, we shared some high-quality photos and a video of what has been claimed to be the rear shell of the 4.7-inch iPhone 6 in rough form. uSwitch has now obtained a pair of photos showing the part in its completed state, revealing a polished finish and the removal of several interior physical features that had been part of the manufacturing process.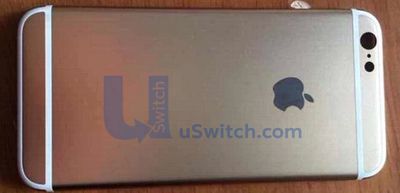 While the part shows a much cleaner look now that it has been polished and cleaned up, the antenna breaks at the top and bottom, previously reported to be made of a non-conductive polymer, remain quite prominent.
uSwitch primarily focuses on the shell's Apple logo, which as seen in previous leaks will change to an embedded version similar to that found on iPads rather than the printed version used in previous iPhones. The report suggests the embedded logo shown in the photos is indicative of a lighted Apple logo as has been speculated ever since the first leaks showing a cutout for the logo surfaced nearly two months ago.


We do not, however, see any significant evidence that the logo on the iPhone 6 will be lighted. It seems more likely to us that the embedded logo is for aesthetic and/or radio transparency reasons.
Unlike the in-progress shells seen earlier this month, the finished shell also shows the full set of camera holes, including the main one for the camera itself and smaller ones for the flash and rear microphone. Consistent with previous leaks, the flash hole is round, which some have considered suspect as Apple moved to a pill-shaped flash in the iPhone 5s to accommodate the new "True Tone" dual-LED system. It is possible, however, that Apple and its partners have developed a new round version of the True Tone flash.