iPhone 5s Camera Improvements: Slo-Mo Mode, 'True Tone' Flash and Better Low-Light Performance
Apple today announced its next-generation flagship phone, the iPhone 5s. As with all of Apple's iPhone updates, the iPhone 5s will come equipped with several impressive camera improvements, both hardware and software-based.
While the iPhone 5s still uses an 8-megapixel camera, it utilizes a sensor that has a 15 percent larger surface area, which means it will produce higher quality photos in low-light conditions. It also has a 5-element lens with an aperture of f/2.2, an improvement over the iPhone 5's f/2.4 aperture and the pixels are larger, at 1.5 microns, for better light absorption. All in all, the iPhone 5s has a 33 percent increase in light sensitivity.
The new iSight camera on iPhone 5s builds on the iPhone 5 camera in ways that make a real difference to your photos. It captures beautiful images at 8 megapixels. What makes them beautiful is a redesigned camera sensor that allows for bigger pixels. Bigger pixels equal better photos. And better photos are precisely what inspired the advancements we made with the new iSight camera on iPhone 5s.
Most smartphones, Apple's iPhone included, are known for having a notoriously bad flash that washes out pictures, but that is no longer the case with the iPhone 5s. The iPhone 5s uses a "True Tone" dual-LED flash that supports two different cool white/warm amber color temperatures for improved white balance and more than 1,000 different color temperatures. The phone's app captures exposure and creates what Apple calls a "dynamic local tone map" to create pictures that are properly hued.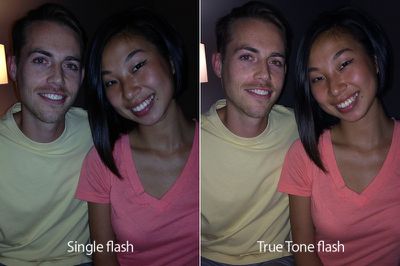 Autofocus has been improved as well, using 15-zone matrix metering for speedier focusing times, and software-based image stabilization has been built-in too. As with the iPhone 5, the iPhone 5s has a sapphire-crystal covered lens designed to withstand scratches and other damage.
For capturing action shots, the iPhone 5s utilizes a new Burst Mode. This mode captures 10 photos per second, combines them to get an accurate light level, and then automatically chooses the best of the bunch.


There's also a new "Slo-Mo" mode, designed to capture 720p video at up to 120 frames per second with 3x live video zoom. Slo-Mo video and regular video can be combined to create all new video effects. In Panorama mode, the iPhone 5s can capture 30 frames per second, which is a 50 percent improvement over the iPhone 5.
The iPhone 5s will ship with iOS 7, which brings several camera improvements itself. iOS 7 includes eight Apple-designed live filters and a redesigned photos app that groups pictures based on time and location.
Apple's iPhone 5s will be released on September 20, and iOS 7 will be available to the public on September 18. Apple also plans to release the iPhone 5c on September 20, with preorders beginning on September 13.