Possible 4.7-Inch iPhone 6 Front Panel Compared to iPhone 5s
As we creep closer to the fall release date of the iPhone 6, component leaks are becoming more frequent. While we originally saw the alleged front panel of the 4.7-inch iPhone 6 back in April, 9to5Mac has shared additional photos of the component.
Depicted in both black and white, the front panel in the photos features a slight gloss and somewhat tapered edges, lending credence to both rumors and mockups that have suggested the iPhone 6 will have rounded iPod touch-style corners.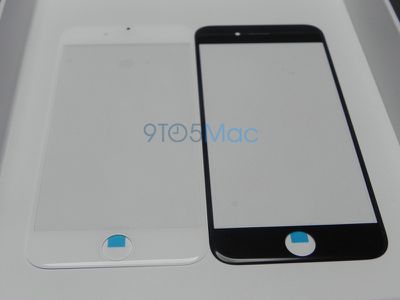 The two front panels in the photos appear to have relocated the front-facing camera hole to the left side of the earpiece, while sensors are located at the top of the device. This is similar to the design of the iPhone 4, which also had a left-sided front-facing camera. Currently, the iPhone 5s's camera is located above the earpiece.
The black front panel was also compared to the front panel of the iPhone 5s, showing the size differences between the two devices.


In addition to these photos of the 4.7-inch iPhone's front panel, we have also seen images that depict manufacturing molds, backlight panels, and rear shells, but the latter component may not be from the actual iPhone 6 as a new rumor from Japanese site Nikkei has suggested the finished device may not have the thick antenna breaks that have been depicted on mockups thus far.
Though only the 4.7-inch iPhone front panel has been seen, Apple is expected to be releasing the iPhone 6 in a larger 5.5-inch size as well. It is unknown at this point if the larger iPhone 6 will be released at the same time, as there have been some conflicting reports on its potential launch due to production issues. The most recent rumors indicate a simultaneous release, however.
Both versions of Apple's iPhone 6 are expected to be thinner and lighter than the existing iPhone 5s, with an A8 processor and various camera improvements. Rumors have suggested the larger iPhone will be positioned as the premium version, offering features like optical image stabilization, a higher storage capacity, and a $100 price increase over the 4.7-inch version.
Update 1:10 PM PT: We've updated the information on the front-facing camera hole on the front panels based on new images.