Only the 5.5-Inch iPhone 6 May Offer 128GB Models
Earlier today it was reported that the iPhone 6 would launch in 32 GB and 64 GB variants, indicating that Apple may not launch a 16 GB variant of the next iPhone and leaving many wondering whether Apple would introduce a third 128 GB variant. Now Chinese site Wei Feng [Google Translate] is reporting that Apple may introduce a 128 GB variant only for the 5.5-inch iPhone 6.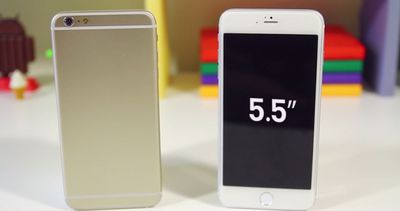 5.5" iPhone 6 model photo via
TechSmartt
The site says that the storage size difference would act as a major differentiator between the 4.7-inch and 5.5-inch models other than display size, allowing people to get a true "phablet" experience with lots of storage space to save various documents and data. This would partly mirror Apple's iPad models, which allow for up to 128 GB of storage while iPhones only allow up to 64 GB of storage.
However, if Apple abandons the 16 GB model and introduces a 128 GB variant for the 5.5-inch iPhone 6 only, it would mean the 4.7-inch iPhone 6 only has two storage size variants, going against Apple's trend of releasing iOS devices with at least three different storage size options.
In addition to a larger display, the iPhone 6 is expected to launch this September with a thinner design, a faster processor, and an improved camera. The larger 5.5-inch iPhone 6 is also rumored to exclusively have optical image stabilization to also differentiate it from the smaller iPhone 6, which will instead have an advanced lens module.