Apple Solves Battery Issues with 5.5-Inch iPhone 6, Looks to Ship 20 Million Units in 2014
Recent rumors surrounding Apple's upcoming iPhone 6 have pointed to two models for the device: a 4.7-inch version set to launch later this year and a larger 5.5-inch version for late 2014 or early 2015. While Apple previously released the iPhone 5s and iPhone 5c at the same time last year, reports have indicated that issues with the 5.5-inch iPhone 6 battery life and display technology will force the company to launch both phones at separate times later this year.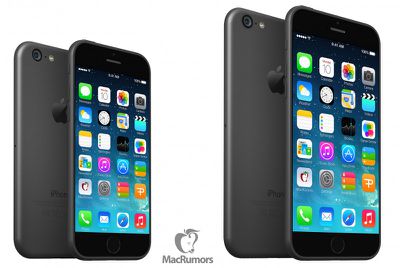 Now, a new report from Chinese site Laoyaoba (Google Translate, via GforGames) claims that Apple has solved its battery issues with the 5.5-inch iPhone 6, as the company will partner with Chinese manufacturing company Sunwoda Electronics to manufacture 20 million batteries for the device. Apple's main battery supplier Dynapack will also help with production, however the Taiwanese-based company has reportedly struggled to keep up with demand.
The report also notes that Apple is aiming to build 20 million 5.5-inch iPhone 6 units by the end of this year, which follows a rumor last month that stated the company's desire to build a total of 80 million iPhone 6 units in 2014. If true, this would mean that the majority of iPhone 6 units would be of the smaller 4.7-inch version, perhaps indicating that the larger version will be hard to find until supplies improve later next year.
In addition to a larger screen, Apple's iPhone 6 is expected to include a thinner profile, a faster A8 processor, and an improved camera in the form of optical or electronic image stabilization. Apple has also included an option for developers to size apps for devices referred to as "Resizable iPhones" in its release of Xcode 6 earlier today, which likely further indicates that iPhones with larger displays are coming.