Photo of Alleged Front Panel from Larger-Screen iPhone 6 Surfaces [Updated]
An alleged photo of what appears to be a front panel from Apple's larger-screen iPhone 6 has surfaced on Chinese microblogging site Weibo (via iPhone.fr, Google Translation).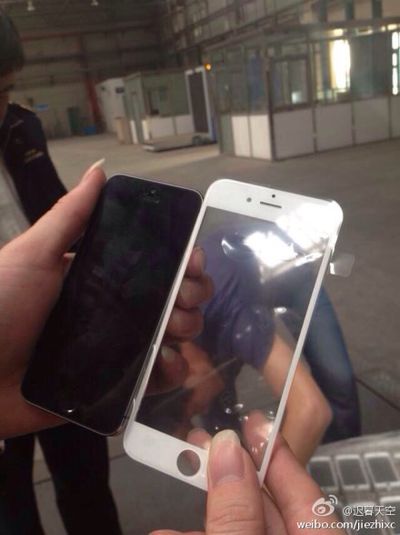 The image appears to show an individual in a factory-type setting holding up an iPhone 5s next to a much larger front panel that contains similar characteristics, including cutouts for a front-facing camera, ambient light sensor, ear speaker, and home button. However, the front panel also features a notably thinner bezel, which is consistent with previous rumors about the iPhone 6's slimmer design.
While the validity of the image cannot be confirmed, the leak is the latest among a number of others recently. This past weekend, several photos reportedly showed the details on manufacturing molds for the iPhone 6, which was followed by a photo yesterday that hinted at a 4.7-inch display.
Last month, Japanese magazine MacFan published alleged design drawings of what appeared to be 4.7-inch and 5.6-inch iPhone 6 models, with a photo showing cases for the larger iPhone surfacing shortly afterward.
Apple is expected to launch the iPhone 6 later this year, which may ship in two different sizes: 4.7 inches and 5.5 inches. Recent reports have indicated that the smaller 4.7 inch version will ship first in the fall, while the larger version may ship later this year or in early 2015 due to manufacturing challenges.
Along with a larger screen, both models of the next-generation iPhone are rumored to include a new A8 processor, Touch ID fingerprint sensor and an upgraded camera featuring optical image stabilization. A report yesterday from Jefferies analyst Peter Misek also stated that Apple is negotiating with wireless carriers to raise the price of the iPhone 6 by $100.
Update 8:07 AM: A second comparison photo has also been discovered on Weibo, showing the iPhone 6 panel next to an iPhone 5 or 5s that is turned on. The image is of relatively low quality, but does offer a fairly straight-on view that shows the larger iPhone accommodating a screen of approximately 4.7 inches.