iPhone 6 Mockups of Low Quality, Antenna Breaks Not in Final Design
We've seen a steady stream of mockup devices that claim to represent the form factor of the rumored 4.7-inch and 5.5-inch iPhone 6. While these mockups provide a fairly accurate look at Apple's upcoming iPhone hardware, they may not be completely accurate, claims Nikkei (via GforGames).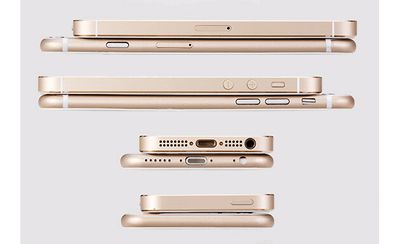 Though they may reflect the overall design, the iPhone 6 mockups have been produced quickly with low quality materials. This haphazard construction misses a few key design elements, the most notable of which is a curved glass display that Nikkei sources say will seamlessly transition into the aluminum shell that encloses the device.


Nikkei sources also say the antenna breaks, shown on the back of some mockups, will not appear in the final version of the iPhone 6. These white-striped lines are thought to mark out the location of the back panels and are not part of the final external design. As a result, the backing on the iPhone 6 may closely resemble the styling of the iPhone 5/5s.
This isn't the first report that claims the iPhone will feature a curved glass display. A report this year from Mac Otakara and an earlier one last year from Bloomberg also claimed the iPhone 6 will ship with a curved display that will lay flush with the phone's round corners.
Apple is rumored to be preparing both a 4.7-inch and 5.5-inch version of the iPhone 6 for launch in September. The devices are thought to feature an A8 processor, an improved camera and a thinner design with oval buttons that are similar to the sixth generation iPod touch. The iPhone may be priced in tiers, with the larger 5.5-inch model costing $100 more than the 4.7-inch version.