ABC News Comes to Apple TV with Live and On-Demand Video, Local News, and Historical Footage [Updated]
ABC News is launching a new Apple TV channel today, bringing access to live and on-demand content to Apple's set-top box. The channel offers a variety of news and entertainment offerings, including local news in select markets and access to five decades of historical footage from ABC's archives. As with many of the recent channel additions to the Apple TV, ABC News is only available to users in the United States for the time being, although ABC says availability will expand worldwide "in the coming weeks".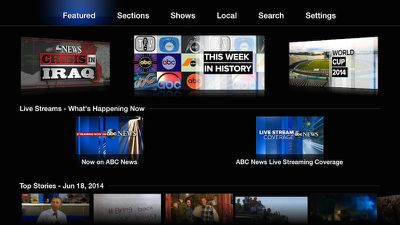 ABC News on Apple TV offers more choices for how, when and where to get the video content you want. Unlike other news offerings, ABC News provides a robust line-up of original and on-demand content and up to four live streaming events at once, allowing viewers to select and view the live news they care about most. From court trials and breaking news to the daily White House press briefing, live continuous coverage of the day's top stories, videos and more are instantly accessible with ABC News on Apple TV.
Among the features on the new ABC News channel:
- 24/7 access to live and on-demand video with four separate live video streams to choose from.
- Video news updates on the hour and four to five live reports per day to cover breaking news.
- Local content from nine television stations around the United States: WABC (New York), KABC (Los Angeles), WLS (Chicago), WPVI (Philadelphia), KGO (San Francisco), KTRK (Houston), WTVD (Raleigh), KFSN (Fresno), and WISN (Milwaukee).
- Curated stories and videos highlighting the top news stories of the moment, updated throughout the day.
- 50 years of historical footage from ABC News' archives, including "This Week in History" and "The Day in Pictures" features.
The Disney/ABC/ESPN media conglomerate has had a close relationship with Apple for a number of years, driven in large part by Disney's acquisition of Pixar, which was owned by Steve Jobs. As a result of the transaction, Jobs became Disney's largest individual shareholder and retained a seat on Disney's board of directors.
The fruits of that relationship can be seen on Apple TV, which offers an existing Watch ABC channel, a trio of Disney television channels, a Watch ESPN channel, and three channels (A&E, Lifetime, History) from Disney/ABC's joint venture with Hearst Corporation. Disney is also a part owner of the Hulu subscription service that is available on Apple TV.
Update 7:08 AM: In addition to ABC News, several other new channels have appeared on Apple TV today, including PBS Kids, AOL On, and Willow, a sports channel dedicated to international cricket. The Flickr channel has also been redesigned.