Ahead of iPhone 6 Launch, One-Third of Smartphones Sold Have Screens Larger Than 5"
With the next iPhone widely expected to be available in larger screen sizes, Canalys reports that a third of all smartphones sold worldwide in the first quarter had screen sizes larger than five inches, a full inch larger than Apple's 4" iPhone 5s screen. The five-inch market -- some 90 million units in the quarter -- was the fastest growing portion of the smartphone market in the first quarter.
Internal documents released during the Apple v. Samsung trial show how Apple has been aware of consumer interest in larger screened smartphones for quite some time, and the iPhone 6 is expected to have 4.7-inch and 5.5-inch options to compete in this market.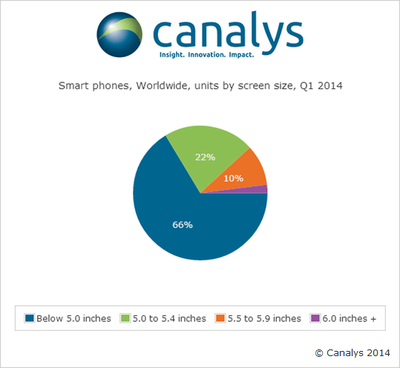 Smart phones with 5" and larger screens grew 369% - a substantially greater rate of growth than the overall market. Worldwide, they represented just over a third of shipments (34%), and in Greater China the figure hit 39%, and 43% in Asia Pacific.

"This is still a market segment led by Samsung, but the trend is unmistakably toward larger-screen handsets at the high end of the market. It held a 44% share of devices with displays of 5" and above, and 53% if the view is narrowed to look at 5.5"-plus displays," said Canalys Analyst Jessica Kwee.

[...]

Consumers now expect high-end devices to have large displays, and Apple's absence in this market will clearly not last long. It is notable that 5" and above displays featured on almost half (47%) of smart phones with an unlocked retail price of US$500 or more. Of the remaining 53% of high-end smart phones, 87% were iPhones.
Only 12 percent of smartphones sold had screens of 5.5-inches or larger, with 22% between 5 and 5.4-inches and the rest smaller than 5-inches, including all iPhones.
The iPhone 6 is widely expected to be launched this fall with a a 4.7-inch option, perhaps at 1704x960 pixels, and a larger 5.5-inch version that may launch later due to supply constraints.