Two New iPhones With Screens Larger Than 4.5" and 5" Coming This Year
The next generation of iPhones, expected to be released this fall, will include new phones with significantly larger screens, according to a report from The Wall Street Journal. It's been widely expected that Apple will launch an iPhone with a larger screen, but this is the first solid indication that Apple could be launching phones in multiple screen sizes, including in the larger "phablet" market.
The report says that Apple will not continue the plastic-shelled body of the iPhone 5c, and will instead have two models with metal outer casings similar to the current iPhone 5s. It's possible that Apple will continue offering two "new" lines of phones with the new lineup, offering a flagship phone with the largest screen -- one more than 5-inches diagonally -- and offering a step-down model with a screen size larger than 4.5-inches diagonally.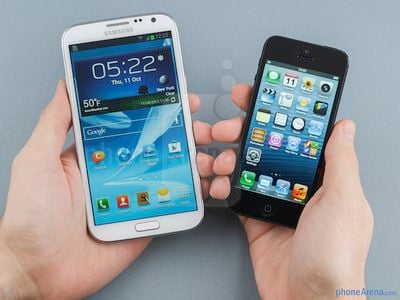 5.5-inch Samsung Galaxy Note II vs. iPhone 5 (Source: phoneArena.com)
Facing competition from rivals offering smartphones with bigger screens, Apple Inc. plans larger displays on a pair of iPhones due for release this year, people familiar with the situation said.

The people said Apple plans an iPhone model with a screen larger than 4½ inches measured diagonally, and a second version with a display bigger than 5 inches. Until now, Apple's largest phone has been the 4-inch display on the iPhone 5.

Both new models are expected to feature metal casings similar to what is used on the current iPhone 5S, with Apple expected to scrap the plastic exterior used in the iPhone 5C, these people said.
The report notes that Apple will not be using a curved display in its units -- something that had been previously rumored -- and that the iPhone 5c has seen weaker-than-expected demand. Instead, it appears the iPhone 5s has seen significant demand that analysts had expected to see go to the more inexpensive iPhone 5c.