U.S. Tablet Sales Led by iPad in 2013 as Chromebooks Overtake MacBooks
Among "commercial channel" sales to distributors for corporate, government, and business customers, the iPad held the biggest share of sales for any tablet in the U.S. during 2013, while sales of Google Chromebooks made up a bigger percentage of the laptop market compared to Mac notebooks, according to a new report from The NPD Group.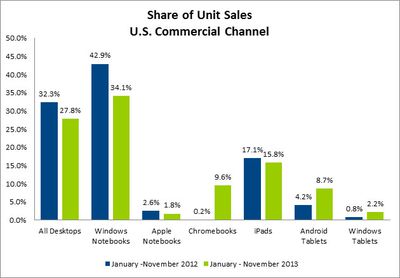 The data in the report showed that the iPad accounted for 15.8% of personal computing device sales in the channel, which was greater than that of Android tablets at 8.7% and Windows tablets at 2.2%. However, the iPad's share of unit sales in the U.S. this year is down from the year-ago period, where it made up for 17.1% of sales. Sales of both Android tablets and Windows tablets grew by 4.5% and 1.4%, respectively.
Meanwhile, sales of Chromebooks in the United States grew to 9.6% in 2013, surpassing the 1.8% share of unit sales held by Apple notebooks. Windows notebooks still held on to 34.1% of the market, but was down 8.8% from the 42.9% share it held last year.
The news follows a broader report from October stating that Mac sales were down 7% year-over-year for the full September quarter, as the decline of traditional PC sales as a whole is likely due in part to the rising popularity of tablets.
Both the iPad and the MacBook line of notebooks saw refreshes this year, as Apple announced the iPad Air and iPad mini with Retina Display along with updated models of the 13-inch and 15-inch Retina MacBook Pro at its October event. New versions of the 11-inch and 13-inch MacBook Air were also announced at Apple's WWDC keynote this past June, and featured enhanced performance with significantly improved battery life.
Apple could also be gearing up to release new types of both products in 2014. Rumors of a larger-size iPad for release in 2014 have surfaced occasionally throughout the past few months, and a report in October from KGI Securities analyst Ming-Chi Kuo stated that Apple may be planning to release a 12-inch MacBook with an all-new design in the middle of 2014.