Apple Updates Retina MacBook Pros With New Processors and Faster PCIe Flash Storage
Apple today unveiled new 13 and 15-inch Retina MacBook Pros, which have been updated with Intel's latest processors for enhanced performance and significantly improved battery life. The 13-inch version features a Haswell processor, while the 15-inch version comes equipped with a Crystal Well processor.
While the 15-inch Retina MacBook Pro retains the same form factor as its predecessor, the 13-inch version is now thinner, with both versions measuring in at 0.71-inches thick. With the new processors, the 13-inch Retina MacBook Pro will now have 9 hours of battery life, while the 15-inch version will have 8 hours of battery life.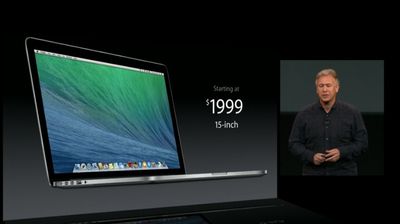 "We've made the world's best pro notebook even better by adding more performance and even longer battery life," said Philip Schiller, Apple's senior vice president of Worldwide Marketing. "MacBook Pro with Retina display continues to redefine the pro notebook."
The 13-inch Retina MacBook Pro now features dual-core Intel Core i5 processors up to 2.6Ghz, with Intel's integrated Iris graphics for 90 percent faster performance than the previous generation. At an added cost, the 13-inch version can be upgraded with 2.8Ghz dual-core Intel i7 processors.
The 15-inch Retina MacBook Pro features quad-core Intel Core i7 processors up to 2.6Ghz (via add-on), with Intel's Iris Pro 5200 Integrated Graphics. A GeForce GT 750M discrete graphics card with 2GB of video memory can also be added on
In addition to improved Intel chips, the new MacBooks feature 802.11ac "Gigabit" Wi-Fi compatibility, which offers speeds up to three times as fast as existing 802.11n wireless networks. They have also gained dual Thunderbolt 2 ports and PCIe flash storage, which pushes peak read/write performance to nearly 800 MB/s, a 45 percent improvement over previous generation technology.
Apple has not updated its line of standard MacBook Pros, indicating that the non-Retina versions are likely to be discontinued in the future, though the company continues to offer the 13-inch non-Retina MacBook Pro.
Apple has reduced the pricing of the Retina MacBook Pros by $200, offering the entry level 13-inch version for $1,299 and the entry level 15-inch model for $1,999. Apple's updated MacBooks are available today from Apple's Online Store and at retail locations and come with Mavericks included.