Mac Pro Launching in December with Xeon Processors, Dual FirePro GPUs and PCIe Flash Storage
At today's media event in San Francisco, Apple announced the release window, specs and pricing for the long-awaited update to the Mac Pro. The Mac Pro, which will be released by the end of the year, is Apple's first computer in many years to be assembled in the United States. During the event, Apple noted that more than 2,000 people in 20 states are involved in the Mac Pro's development and assembly.
The new Mac Pro is a complete and radical redesign of the tower/workstation design that Apple has used since the G5 tower was introduced in 2003. The tower includes a unique cylindrical design that wraps all of the machine's components around a unified thermal core which absorbs heat from throughout the machine and disperses it through a vertically-oriented fan that draws air in from the bottom of the machine and vents it out through the machine's top.
The Mac Pro features the latest Intel Ivy Bridge E Xeon processors with up to 12 cores, dual AMD FirePro GPUs, six Thunderbolt 2 ports, and PCIe-based flash storage with ECC memory, USB 3.0, and faster 802.11ac Wi-Fi.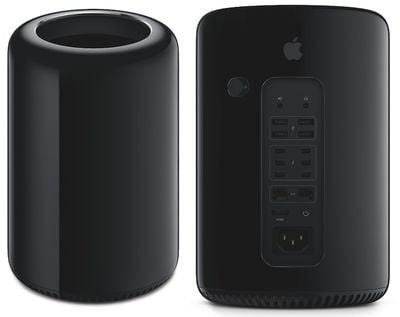 "The new Mac Pro is our vision for the future of the pro desktop, everything about it has been reimagined and there has never been anything like it," said Philip Schiller, Apple's senior vice president of Worldwide Marketing. "The new Mac Pro packs up to 12-core Xeon CPUs, dual FirePro GPUs, ultra-fast ECC memory, new PCIe flash storage, Thunderbolt 2 expandability and more into a radical new design that is one-eighth the size of the previous generation Mac Pro."
In the United States, pricing for the Mac Pro begins at $2,999 for the entry-level model, with a number of additional build-to-order components available at an additional cost. The Mac Pro will begin shipping in December.
Apple gave an
unusual sneak peek
at the redesigned Mac Pro earlier this year at WWDC, after
promising a year earlier
that a redesign was forthcoming. The redesigned Mac Pro is the first update the product has seen in
more than three years
.