Apple Driving Supply Chain Capacity with $10.5 Billion Investment in Advanced Technologies
Back in October, Apple filed its 2013 10-K annual report with the U.S. Securities and Exchange Commission, offering some insight into how the company has grown over the past year. A section within the filing revealed that the company is investing a record $10.5 billion on advanced supply chain technology, and a new report from Bloomberg has offered a look at what Apple typically does with those expenditures.
Apple's investment will reportedly include the purchase of new machinery such as assembly robots and milling stations to place in the factories of its suppliers, which would help with the mass production of iPhones, iPads, MacBooks and more from the company's line of products, as Apple looks to seek advantages over the production tools in the factories of its rivals.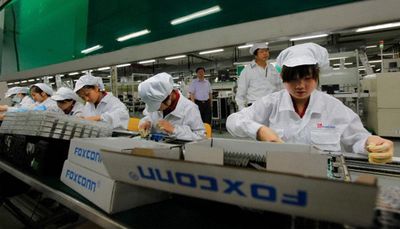 To get a jump on rivals like Samsung Electronics Co. and lay the groundwork for new products, Apple is spending more on the machines that do the behind-the-scenes work of mass producing iPhones, iPads and other gadgets. That includes equipment to polish the new iPhone 5c's colorful plastic, laser and milling machines to carve the MacBook's aluminum body, and testing gear for the iPhone and iPad camera lens, said people with knowledge of the company's manufacturing methods, who asked not to be identified because the process is private.
Apple has been seeking to expand its production efforts in numerous ways recently, as a report surfaced earlier this week that Apple and Samsung were looking to use an upstate New York factory belonging to semiconductor company GlobalFoundries to produce Apple's A-series chips. Apple has also struck a deal with GT Advanced to produce sapphire glass for its products, with Apple investing significant upfront money in facilities and advanced technologies to advance the process
Apple engineers often spend weeks at facilities in Asia making sure the parts and equipment they buy or make are working properly, people familiar with the work said. The company has hired robotics experts and its website has several job openings for engineers who can operate high-end manufacturing equipment. [...]

Apple's approach contrasts with other technology companies, which typically partner with contract manufacturers to handle much of the engineering work involved in getting a product made in large numbers, said Cormac Eubanks, product development director at industrial design firm Frog Design.
A push to expand its production technology and increase efficiency within the factories of its suppliers comes as Apple looks toward a busy next year with high demand for existing products such as the Retina iPad mini, as well as new product categories on the horizon.
A previous analysis of Apple's 2013 10-K annual report with the U.S. Securities and Exchange Commission revealed other interesting developments about the company's growth over the past year, including the growth of Apple's employee headcount and retail store count, along with the increased advertising expenses and real estate holdings. Apple's annual report usually contains a number of details about the company's operations, much of it targeted at investors and regulators, and addresses such topics as executive compensation, company investments, taxes, and more.