Apple's 2013 Annual Report: Inside the Numbers on Employees, Retail Stores, and More
Apple yesterday filed its 2013 10-K annual report with the U.S. Securities and Exchange Commission, offering some insight into how the company has grown over the past year. Among the interesting tidbits included in the report:
- Apple's employee headcount grew to 80,300 full-time equivalents, up from 72,800 at the end of fiscal 2012. Nearly all of that growth was outside of the company's retail division, which grew by only 400 to 42,800 full-time equivalents.
- Apple's retail store count increased by 26 during fiscal 2013, with average revenue per store dropping slightly to $50.2 million from $51.5 million. The company also saw a decrease in the number of full-time equivalent employees per store, moving from 108.7 in 2012 to 102.9 in 2013. As noted during Apple's earnings conference call on Monday, the company plans to open 30 new retail stores in fiscal 2014, with two-thirds of those being outside of the United States. Apple expects to remodel an additional 20 of its existing stores.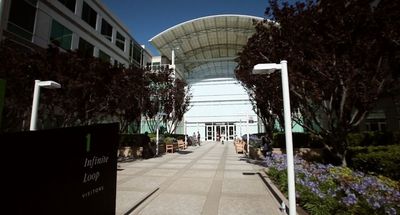 - Real estate holdings continue to grow, with Apple now owning or leasing 19.1 million square feet of space, up from 17.3 million square feet at the end of the previous year. That number includes 2.6 million square feet at the former HP campus in Cupertino that will be demolished to make way for Apple's new headquarters campus. Apple's campus will ultimately contain roughly 3.6 million square feet of space.
As of September 28, 2013, the Company owned or leased approximately 19.1 million square feet of building space, primarily in the U.S., and to a lesser extent, in Europe, Japan, Canada, and the Asia-Pacific regions. Of that amount approximately 12.0 million square feet was leased building space, which includes approximately 4.6 million square feet related to retail store space. Of the Company's owned building space, approximately 2.6 million square feet that is located in Cupertino, California will be demolished to build a second corporate campus. Additionally, the Company owns a total of 1,428 acres of land in various locations.

As of September 28, 2013, the Company owned a manufacturing facility in Cork, Ireland that also housed a customer support call center and facilities in Elk Grove, California that included warehousing and distribution operations and a customer support call center. The Company also owned land in Austin, Texas where it is building office space and a customer support call center. In addition, the Company owned facilities for research and development and corporate functions in Cupertino, California, including land for the future development of the Company's second corporate campus. The Company also owned data centers in Newark, California; Maiden, North Carolina; Prineville, Oregon; and Reno, Nevada. Outside the U.S., the Company owned additional facilities for various purposes.
- Apple's advertising expenses rose to $1.1 billion in fiscal 2013, up from $1.0 billion in 2012.
- Apple expects capital expenditures to rise to $11.0 billion in fiscal 2014, a significant increase of 57% over the $7.0 billion spent in 2013. The retail division is expected to see only a 10 percent increase in spending, while Apple's other capital expenditures related to manufacturing, corporate facilities and infrastructure would grow by over 60 percent. Some of that increase may be related to Apple's new corporate campus, but it is not entirely clear how those costs are being budgeted and accounted for over time. Asymco's Horace Dediu has used Apple's capital expenditure estimates to predict shipments of 250-285 million iOS devices in fiscal 2014, up from around 235 million in 2013.
Apple's annual report contains a number of other details about the company's operations, much of it targeted at investors and regulators, and addresses such topics as executive compensation, company investments, taxes, and more.