Apple to Add New Assembly Partners to Bolster Production of iOS Devices
Apple is set to add new manufacturing partners in Asia to handle production of its current line of iOS devices, reports The Wall Street Journal.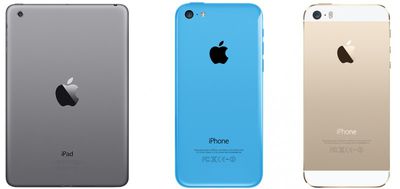 The company will contract with Wistron to produce the cheaper iPhone 5c and Compal Communications to assemble the iPad mini, though the report does not say whether the latter will assemble the iPad mini or Retina iPad mini. Apple is reportedly expanding its supplier list as its primary supplier, Foxconn, is focused on producing the iPhone 5s.
Furthermore, Apple is reportedly said to be unhappy with the labor issues that have surrounded Foxconn over the past few years, along with the repair costs said to have come with the high return rate of defective iPhones:
Hon Hai, also known as Foxconn, has also been under scrutiny for its labor practices, creating a headache for Apple, they said. According to J.P. Morgan analyst Alvin Kwock, the high return rate of defective iPhone 5 smartphones also led to tensions between Apple and Hon Hai over which company would be responsible for repair-work costs.
Last month, Apple notified Pegatron and Foxconn that it would be reducing orders of the iPhone 5c, with another report stating that iPhone 5s production was to be boosted by 75 percent to meet demand. The iPhone 5s remains in very short supply, with carriers such as Verizon and T-Mobile indicating that they could have sold even more units of the device had supplies been readily available. The iPhone 5c, in contrast, has seen good supplies throughout Apple's distribution channels, allowing the company to meet demand.
"Apple has raised this quarter's iPhone 5S orders from Hon Hai as demand has been stronger than expected. But it takes time to boost production capacity and Apple can't find other assemblers to increase production to meet demand immediately," said the Hon Hai executive.
Meanwhile, Apple's upcoming iPad mini with Retina display is said to be in very short supply, with Apple CEO Tim Cook stating last week during the company's fourth quarter earnings call that it was "unclear whether we will have enough for the quarter or not" and a report last week stating that the company is turning to Samsung as low display yields for the Retina iPad mini continue. Currently, it is not known when specifically the second-generation iPad mini will be released, as Apple has only stated that the tablet will be out by the end of November.