Apple Cutting iPhone 5c Production at Two Major Suppliers
Apple has notified two of its major iPhone 5c suppliers that it is reducing orders of the smartphone for the fourth quarter, reports The Wall Street Journal. Taiwanese assemblers Pegatron and Foxconn (also known as Hon Hai Precision Industry Co.) were given notice by Apple that fourth quarter production of the device would be slowed, with the former being told orders would be cut by less than 20% and the latter being told that orders would be cut by one-third of the original production. A report by Reuters corroborates the claim of production cuts at Pegatron.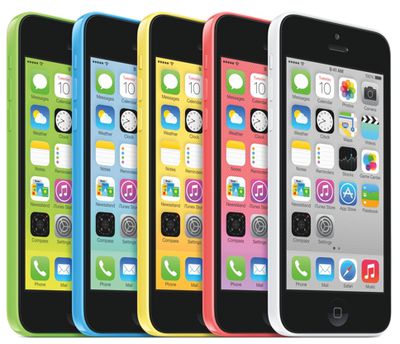 Apple told its Taiwanese assemblers Pegatron Corp. and Hon Hai Precision Industry Co. that shipments of the iPhone 5C in the fourth quarter would be cut, the people said. Pegatron, which analysts say assembles two thirds of the iPhone 5Cs, was told orders would be cut by less than 20%, said a person familiar with the matter. Hon Hai, which assembles the remaining low-cost iPhones, was told orders would be cut by a third, said two people familiar with the matter.

One component supplier was notified of a 50% cut in orders for iPhone 5C parts, which analysts say could suggest a slowdown in device shipments next year, or mean an inventory reduction by assemblers.
Reflecting continued tight supplies of the higher-priced iPhone 5s, sources at Foxconn have also indicated that Apple has requested an increase in production for those models.
Apple's notice to suppliers comes after various reports about the iPhone 5C's market demand and production over the past month, with one report stating last week that Apple was cutting iPhone 5c production from 300,000 units to 150,000 units per day, as the iPhone 5c seeing much greater availability compared to the iPhone 5s. New data from the Consumer Intelligence Research Partners last week also stated that the iPhone 5s has been outselling the iPhone 5c by more than a two-to-one margin since the launch of both devices last month.
It remains difficult to say, however, whether Apple's cuts are a result of lower than expected demand or perhaps simply part of a planned scaling back following an initial surge to ensure that distribution channels are adequately filled heading into the holiday season. With strong availability of the iPhone 5c continuing, a number of third-party retailers have been discounting the device in order to entice customers.
Apple announced last month that the iPhone 5s and iPhone 5c had sold a record nine million units during their launch weekend, but the company did not break down the sales distribution between the two models. However, a report from earlier this month stated that the iPhone 5c finished second in sales during the month of September at US carriers AT&T and Sprint, and finished within the top three in sales at all four major carriers, which suggests that the lower-cost iPhone is at least selling fairly well.