Case Makers Await Apple's Media Event with iPad 5 Cases Ready to Go
As Apple prepares to launch its radically redesigned fifth-generation iPad, multiple case makers are gearing up to release cases to fit the thinner, slimmer tablet. Because Apple does not provide case makers with specifications, accessory manufacturers gamble on case design by utilizing rumors and product leaks to create their cases, as noted by ABC News.
For example, Gumdrop Cases (also responsible for the Hard Candy brand) has developed a line of fifth-generation iPad cases that it had already begun manufacturing back in June, in anticipation of a WWDC launch for the redesigned tablet. Since then, the company has gone on to create several additional cases for the iPad 5, all without a glimpse of the product.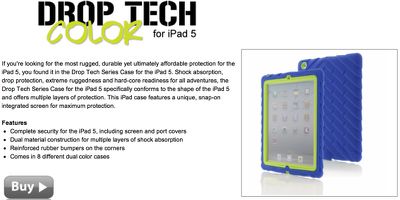 According to Gumdrop CEO Tim Hickman, Gumdrop has worked with the Chinese factories that produce the iPad in order to acquire dimensions and computer-aided designs to make the cases, communicating back and forth with the factories to make sure the cases will fit the final product.
"I'm pretty confident that our cases will fit the new iPads," Hickman told ABC News. "We work with the factories really closely. We aren't going to be really far off."
In addition to Gumdrop, multiple other companies have begun manufacturing cases for the iPad 5, including well-known brands like Kensington, hoping to get an edge on the competition. MacRumors has received several reports of iPad 5 cases showing up in stores and online, and Amazon is also offering a number of pre-designed cases for the tablet. Fifth-generation cases first started appearing in February, with additional models being displayed in April.
M-Edge, another popular case maker, also spoke with ABC News on the trial and error behind creating early iPad cases. The company utilizes several data sources for its design, according to CTO Adam Ashley, including leaked photos and rumors.
"We analyze the data – the rumors and the photographs – we compile this information and we meet with our product team to assess the confidence level," Ashley told ABC News.

Ashley said there are also a few tricks to making sure the case will fit without the exact measurements. The product designers will leave some room for error in the size of the case and also leave room for button adjustment. For instance, they may leave a larger opening for the buttons on the edge in case Apple decides to make adjustments.
Manufacturing cases based on rumor can be a major risk, as some highly-rumored Apple products never make it to market. For example, in 2011 rumors suggested that the next iPhone would utilize a tapered design, which never reached fruition. Given the number of fifth-generation iPad part leaks, however, it is likely that early case production will prove to be successful for many companies.
According to Gumdrop, the company has spent a quarter of a million dollars pre-preparing cases, and both M-Edge and Gumdrop claimed the risk was worth it, as not having cases at launch would cause a bigger fiscal impact.
"If we are wrong we lose a bunch of money, but if we are right, we can make a lot of money," Hickman said. "It is still a gamble, but in this world, it is the game that is being played."
Apple's fifth-generation iPad will be announced tomorrow, on Tuesday, October 22 at a San Francisco event. The iPad will take on an iPad-mini style design, with narrower side bezels and a smaller, lighter form factor. It is expected to feature an upgraded A7X processor and an improved camera.
Alongside the iPad, Apple is also expected to debut a Retina iPad mini, Haswell MacBook Pros, the redesigned Mac Pro, Mavericks, and revamped versions of its iLife and iWork software.