Case Maker Bets on Unlikely iPad 5 Launch at WWDC
While quite a few low-cost cases based on the alleged design of the fifth-generation iPad have been circulating for a number of months, bigger names are now getting into the act. The news comes from CNET, which reports that Gumdrop Cases has developed its own $35-$65 cases and is in fact betting that the new iPad will make an appearance at next week's Worldwide Developers Conference (WWDC).
[Gumdrop Cases founder and CEO Tim] Hickman wouldn't say who his sources are, but he's confident enough in them to start producing new cases for the iPad 5 and put them up for pre-order. In fact, a press sample of the $59.99 Gumdrop Drop Tech is due to arrive later today, and we'll update the post with new pictures once we get it. Gumdrop is also manufacturing the Gumdrop Bounce ($34.95) and Gumdrop Drop Tech Designer Series ($59.99). They're scheduled to ship on June 10.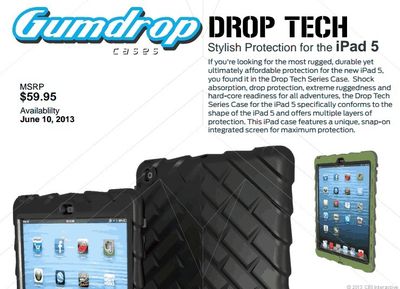 The fifth-generation iPad is widely rumored to be taking design cues from the iPad mini, adopting narrower side bezels while coming in roughly 15% thinner and up to 33% lighter that the current full-size iPad.
The vast majority of reports have, however, indicated that the new iPad will not be appearing at WWDC, with Apple instead said to be launching updated iOS hardware later in the year. Relatively reliable KGI Securities analyst Ming-Chi Kuo has claimed that Apple will begin ramping up production of the new full-size iPad in the August-September timeframe, with an updated iPad mini with Retina display perhaps coming several months later. Digitimes has offered similar estimates of launch timing for the new iPads.
Case makers have traditionally had a fair amount of success basing their designs on leaked measurements for new and redesigned Apple devices, although many were fooled by rampant rumors of a tapered iPhone design that failed to appear when Apple launched the iPhone 4S in 2011.