More 'iPad 5' Cases Surface Showing Smaller and Thinner Design
With both front and rear casing parts and several case designs for the fifth-generation iPad having surfaced over the past several months, we are starting to get a very good idea of how Apple is drawing on design cues from the iPad mini to design a thinner and narrower full-size iPad.
Building on this concept of an iPad mini-inspired design, several more cases have appeared today offering a additional glimpses at what we might be able to expect from the next iPad.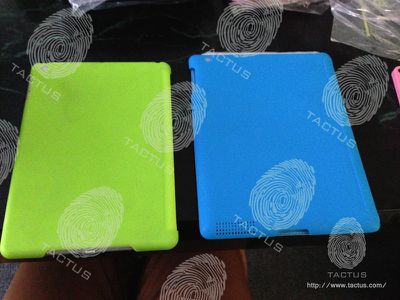 iPad 5 case (left) and iPad 4 case (right)
The
first set of images
comes from case maker Tactus, which shows cases for both the current iPad and the fifth-generation model, with a clear plastic mockup of the fifth-generation model showing how its features would mimic those of the iPad mini.


Meanwhile, Engadget shares photos of another iPad 5 case leaking out of Hong Kong, with a number of comparison shots showing how the device size and various physical features line up between the fourth-generation and fifth-generation cases.

iPad 5 case (blue) and iPad 4 case (gray)
With parts and cases already circulating, it can be difficult to tell whether new case leaks such as these are based on genuinely leaked specs or merely on previous information, but the case designs remain consistent with previous leaks and rumors and may offer a decent picture of Apple's plans.