Early Prototype of Apple's Touch ID Demoed by AuthenTec Co-Founder
Apple's Touch ID fingerprint sensor, one of the core features of the iPhone 5s, has received universally positive reviews due to its simplicity, its speed, and its position as a feature that is far from gimmicky, unlike some competing products.
The fingerprint sensor technology came from AuthenTec, a small semiconductor company based in Melbourne, Florida, acquired by Apple in July of 2012. AuthenTec co-founder F. Scott Moody detailed both the company's acquisition and the technology behind Touch ID during a presentation that took place on at North Carolina State University on Tuesday, which AppleInsider attended.
[Moody] explained to the students that it's AuthenTec's technology behind an 8-millimeter by 8-millimeter sensor found beneath the iPhone 5s home button.

"We're looking at pores, structures of ridges and valleys, and instantaneously tell who you are," Moody said. "Every time you use it, it learns more about you. Because it knows, 'This is Alex,' every time you use it gets easier and easier."
Before Apple's Touch ID, AuthenTec worked on the FingerLoc, a product that originally attracted Apple's attention. FingerLoc was a bulky solution housed in a box much larger than an iPhone, which connected via ribbon cable to another, larger box.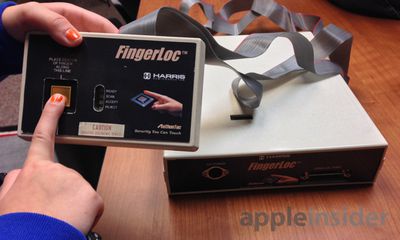 Like the existing Touch ID fingerprint sensor, the FingerLoc incorporated a metal ring that functioned as a capacitor. According to Moody, AuthenTec teamed up with several dermatologists in order to perfect the capacitor, which is designed to send a signal through the outer layer of skin. "With other sensors, your ridges would collapse into the valleys," said Moody. "Ours doesn't."
Over the course of several years, AuthenTec revised and improved the FingerLoc, shrinking the size of the sensor and lowering the price point until it came up with a final product that interested several technology companies, namely Apple.

When AuthenTec came out with their final product, the company generated interest from a number of customers, including Apple, Motorola and Fujitsu. Apple, in particular, "ate it up," Moody said, and eventually bought the entire company in 2012 for $356 million.

"We had a great team of engineers — which I think is highlighted by the fact that Apple kept the engineering team," he said.
According to Apple, AuthenTec's Touch ID sensor captures a high-resolution image of a fingerprint, which it then analyzes to provide accurate readings. Though fears have been raised the fingerprint storage process and the security of the system, Apple has assured users that the iPhone 5s stores only fingerprint data, publishing an extensive knowledge base article detailing Touch ID.