According to a photo posted on Twitter (via ifoAppleStore), Apple seems to be building a retail store in the center of Shanghai's new IAPM mall. The store, which appears to be two stories high as it undergoes construction, is blocked off by a gray barricade that sports the Apple logo and the URL which directs Apple's China retail website. The mall in which the store is located opened two weeks ago, and is connected to high-rise apartments and business offices, both of which have yet to open.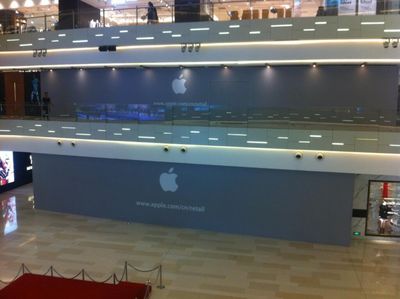 Visitors to the new upscale iAPM shopping mall in Shanghai (China) have noticed a surprise future tenant—a two-level Apple retail store. The six-level mall held a soft opening two weeks ago, but several tenants are still outfitting their stores, including Apple. Construction is underway behind an unusual gray-painted barricade that is 60-feet wide, with a white Apple logo and Web address. The mall is connected to high-rise residence and office towers, and features operating hours as late as 11 p.m. The project also includes an IMAX theater, high-end grocery store, entertainment venues and restaurants. The store is about one mile west of the existing Hong Kong Plaza store, with two other stores further east in city center. The timeline for the store's grand opening isn't known, but it will eventually be the fourth location for the city.
Apple has several retail stores in Shanghai, starting with one in the Pudong district in 2010, another on Shanghai's famous Nanjing Road in 2011, and a retail store located in the Hong Kong Plaza.
The construction of the store comes as Apple is scheduled to hold a media event in Bejing tomorrow following an official media event at its headquarters, where the company is expected to announce the next-generation iPhone 5S and the low-cost iPhone 5C, the latter of which may deliver a huge boost in China. China Mobile, the world's biggest carrier, is said to be scheduled to receive shipments of the iPhone 5C, although details on a launch announcement for the carrier remain unclear.