'iPhone 5C' Projected to Give Apple Huge Boost in China
While Apple has experienced tremendous growth in China over the past several years and the market is now responsible for approximately 15% of Apple's revenue each quarter, Apple's momentum has slowed there recently with the most recent quarter seeing a 14% decline in revenue in China year-over-year.
A Morgan Stanley analyst team led by Katy Huberty released a bullish new report yesterday suggesting, however, that Apple's rumored lower-cost "iPhone 5C" could spark a surge in consumer interest for Apple in China. According to a survey of 2,000 Chinese consumers in "Tier 1-2" cities, an iPhone 5C could lead to a 13-point smartphone market share boost for Apple in China, with a rumored China Mobile deal potentially adding another six points. Combined, those two scenarios could push Apple to a 36% share of the market in those cities, taking the lead from Samsung.
Apple could significantly disrupt the Chinese smartphone market by launching iPhone 5C. We asked respondents that are very likely to purchase smartphones in the next 12 months but did not choose the iPhone whether they would purchase a redesigned and lower-priced iPhone 5C, one of the "Mini" products from international brands, or a comparable smartphone from one of China's domestic brands. The survey indicates Apple could gain 13 points of unit share with iPhone 5C. About half of that share gain would come from Samsung, while most other vendors lose some share.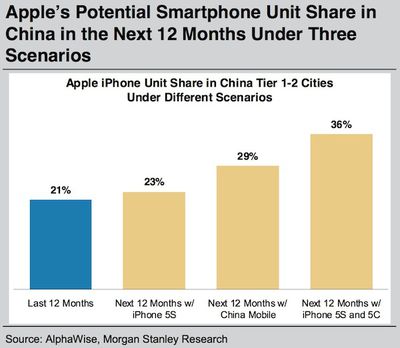 According to the survey, the "sweet spot" for pricing on the iPhone 5C among Chinese consumers is around RMB 4000 ($486), significantly higher than Morgan Stanley's estimated $399 pricing for the device, suggesting that consumers there will generally be satisfied with the iPhone 5C as a mid-range device rather than Apple needing to compete at low-end price levels.
Morgan Stanley's results also show that two-thirds of potential iPhone 5C customers would be happy with a 3G device, as 4G networks have yet to see widespread deployment in many areas of China. The data suggests that Apple could boost profit margins and increase differentiation with the iPhone 5S by not supporting 4G LTE on the iPhone 5C, although the company's plans for the iPhone 5C in countries where 4G LTE is more prevalent could drive Apple to support the faster networks.
Apple is expected to unveil the iPhone 5S at a media event on September 10, with the iPhone 5C most likely appearing at the same event.