Apple Opens Massive New Nanjing East Retail Store in Shanghai
Apple today hosted a grand opening event for its new Nanjing East retail store in Shanghai, the company's largest store in China so far. M.I.C gadget posts a series of photos of the opening and reports that over 500 people were on hand for the event. The store reportedly employs 300 people.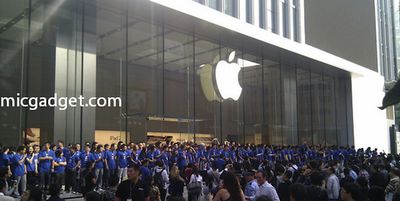 Nanjing East store staff assembled for grand opening
The main portion of the store covers two floors, and as with many such locations the first floor is focused on product displays while the second floor is dedicated to customer support and training. Additional floors include space for meeting with business customers and offices for Apple's Chinese operations.

Inside front entrance of Nanjing East retail store
Apple will be opening another massive new store in the region tomorrow as its
IFC Mall store
in Hong Kong debuts. Checking in at over 16,000 square feet and with over 300 employees of its own, the new Hong Kong store offers a prominent presence for Apple in one of the world's major financial and shopping centers.
In addition to the two new flagship stores in Shanghai and Hong Kong, Apple will be opening five other stores tomorrow as the company closes out fiscal 2011 and sets the stage for its upcoming iPhone launch.