Apple Shipping Low-Cost iPhone to China Mobile
After years of ongoing negotiations, it appears that Apple and China Mobile have finally reached a deal that will see China's largest carrier offer the iPhone. According to The Wall Street Journal, Apple is currently preparing to ship the new low-cost iPhone "5C" to the carrier.
A deal would cap years of negotiations between the two companies. Apple has tried to hammer out a deal with China's largest wireless carrier that has 700 million subscribers, seven times the size of the U.S.'s largest wireless carrier Verizon Wireless. Greater China is Apple's third biggest market after the U.S. and Europe in terms of sales.

Apple has asked Foxconn, its longtime contract manufacturing partner, to add China Mobile to the list of carriers slated to receive a new low-cost iPhone, one of these people said. It isn't clear when the phones would be delivered.
Reaching a deal with China Mobile has not been an easy feat for Apple, and the two companies have been in negotiations and talks for more than two years.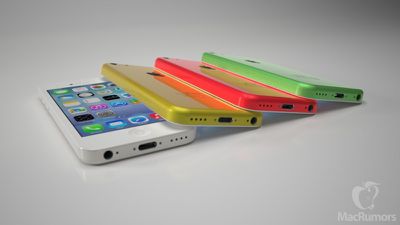 Rendering of Apple's Low-Cost iPhone 5C
Much of the problem stemmed from China Mobile's
use
of TD-SCDMA, which Apple's iPhones have not previously supported, though revenue share terms were also an issue. Tim Cook
met with
China Mobile officials
several times
over the course of the year and in August, China Mobile chairman Xi Guohua reported that the company was close to achieving an agreement with Apple.
Apple's lower-cost iPhone, which has been developed primarily for emerging markets like China, is expected to carry a price tag between $400 to $500, making it more affordable than alternatives like the upcoming flagship iPhone 5S. Apple will announce its new iPhone lineup on September 10, with an event to follow in Beijing on September 11.
While China Unicom and China Telecom are expected to receive the iPhone on September 20, China Mobile's launch could come somewhat later because of the need for regulatory approval on the TD-SCDMA compatible iPhone.
Update: According to Bloomberg, a deal is close to being finalized, but it will not be announced during the September 10 iPhone event.