Hedge Funder Lee Cooperman Takes 'Modest Position' in Apple, Drives Stock Price Over $500
Following yesterday's news that investor Carl Icahn has taken a greater than $1 billion position in Apple, believing the company is 'extremely undervalued', today Lee Cooperman of hedge fund Omega Advisors says he agrees with Icahn and that his firm has taken a modest position in Apple, according to CNBC.
The news has driven Apple's stock price over $500 for the first time seven months. Apple first breached the $500 barrier in February of 2012, nearly 18 months ago to the day.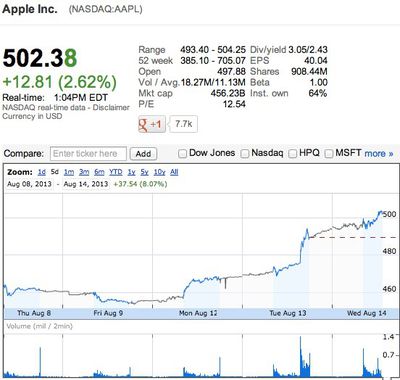 Scott Wapner reporting earlier today on CNBC:

Much is being made of Carl Icahn's big new position in Apple, but from the filings we've learned that Lee Cooperman has taken a new position. He is back in Apple. I just got off the phone with him and he told me the following: he agrees with Carl Icahn that Apple is cheap, said they have a new modest position, said got back in the low $400s.

Lee Cooperman thinking that the new iPhone is going to create some buzz. When talking about the entire space he says he still thinks that Qualcomm is the best play in that overall space. But clearly making it known that he agrees with Carl Icahn that Apple is cheap in his words. They got back in in the low $400s and think the new iPhone which is expected on September 10th is going to create some buzz and you know Apple was right on the cusp of $500. We will see what happens here.
Apple has a long way to go to reach its all-time high of $705 set last year, but both Icahn and Cooperman are betting big on the company and believe it can regain those levels.