Apple Share Price Breaches $500, Hits All-Time High
Apple's share price pushed through the $500 barrier as trading opened this morning, reaching an important psychological figure. The stock price has been on a tear ever since Apple reported blowout earnings for the first fiscal quarter of 2012, rising more than $75/share, or nearly 18%, in just under three weeks.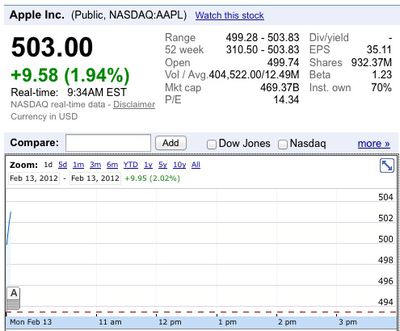 Apple is now worth more than $469 billion, making it the most valuable public company in the world by a significant margin. Exxon Mobil, the second most valuable public company, is worth approximately $400 billion after a weakening in that company's price.
Apple is a long way from claiming the "most valuable publicly traded company ever" title. Among many others, Microsoft had a peak market cap of $642 billion during the dot-com boom in September 2000. That company is now worth just over $250 billion. With the reversal of fortunes, Apple is in fact now worth more than Google ($199 billion) and Microsoft ($256 billion) -- Apple's two biggest competitors -- combined.