BlackBerry Messenger Reportedly Coming to iOS June 27 [Updated]
Last month, BlackBerry announced that it would be bringing its BlackBerry Messenger (BBM) service to iOS and Android this summer, seeking to strengthen its existing network of 60 million monthly active users with a broader cross-platform messaging solution.
SlashGear now points to a Tweet from T-Mobile UK claiming that BBM will be launching on iOS and Android on June 27.
Great news - BlackBerry Messenger will be available to download on iOS and Android from June 27th! :) #BBM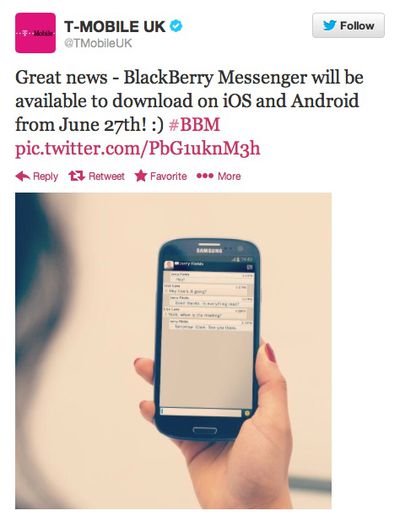 In an interview with CNET yesterday, BlackBerry Chief Operating Officer Kristian Tear also revealed that the company is in talks with other handset makers to offer BBM preloaded on their devices. Apple obviously would not agree to such a deal, but it seems that certain Android handsets may soon come with built-in support for the service.
BlackBerry is working with other handset manufacturers to get its BlackBerry Messenger service preloaded on to their phones, according to a top executive.

"There is interest from other handset makers," BlackBerry Chief Operating Officer Kristian Tear told CNET in an interview on Wednesday.
BBM's expansion comes as Apple has gained traction with its Apple-centric iMessage service and other cross-platform services such as WhatsApp and Facebook Messenger have accumulated significant user bases of their own. BlackBerry has clearly decided that the potential benefits of opening up BBM to more users outweigh the risks of BlackBerry device customers defecting to other platforms, but it remains to be seen whether the smartphone pioneer can help stabilize itself with such a move alongside its new BlackBerry 10 operating system.
Update 8:46 AM: Business Insider reports that the June 27 date is incorrect, with a source calling the claim "bogus".
Update 11:25 AM: BlackBerry has confirmed to Mashable that the June 27 date tweeted by T-Mobile UK is incorrect.