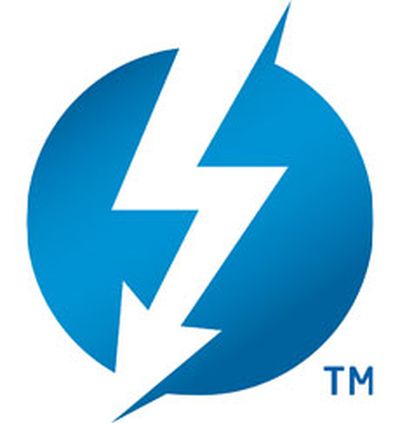 Intel announced the next generation of Thunderbolt, codenamed "Falcon Ridge," back in April, but today the company shared some a few additional details about the upcoming release.
As previously announced, Falcon Ridge, now officially dubbed Thunderbolt 2, supports up to 20Gbps bi-directionally, doubling the bandwidth of the original Thunderbolt. The new version of Thunderbolt will support both DisplayPort 1.2 and 4K video.
Named "Thunderbolt™ 2", this next generation of the technology enables 4K video file transfer and display simultaneously – that's a lot of eye-popping video and data capability. It is achieved by combining the two previously independent 10Gbs channels into one 20Gbs bi-directional channel that supports data and/or display.

Current versions of Thunderbolt, although faster than other PC I/O technologies on the market today, are limited to an individual 10Gbs channel each for both data and display, less than the required bandwidth for 4K video transfer. Also, the addition of DisplayPort 1.2 support in Thunderbolt 2 enables video streaming to a single 4K video monitor or dual QHD monitors.
Thunderbolt 2 is backwards compatible with current generation cables and connectors, so existing hardware will continue to function with the updated controller. Intel expects Thunderbolt 2 to begin production before the end of the year, ramping up into 2014.